India Trip 2007
by Kim Kamat
First Online: May 08, 2008
Page Last Updated: January 11, 2018
Introduction
Accompanied by Vikas and Amma (my mother-in-law), I traveled for two weeks in India during November of 2007. The following are my notes, experiences. If you'd just see the pictures, just click here.
Colorful Indian Weddings
I attended Vikas' cousin's wedding in Bangalore. Indian weddings are really like those depicted in the movies (like Monsoon Wedding) -- with all the colors, rituals, eating, and fanfare. Weddings are the occasion to show off their jewelry collections, and the women guests typically changed two to three different sarees during the function!
Since I don't know how to wear a saree, I wore a Chudidar. I even tried the turban; they said I resembled Phoolan Devi, the famed Bandit Queen of India. Women are not supposed to wear turbans, it was just my privilege as a foreigner.
The Town of Melkote
Melkote is one of those small traditional Indian towns that has retained its charm because of the orthodoxy of its population. Many Srivaishnava Brahmins following the teachings of Indian philosopher Ramanujacharya live here.
See Also: Town of Melkote
Some twenty five years ago, Vikas's dad had an opportunity to meet a social worker who was personally caring for many handicapped children at his house. These pictures eventually became famous on our website under the title Beauty is Skin Deep. Our joy knew no bounds when we met this family in Melukote. Thanks to the wonders of modern technology, Vikas was able to show them all the pictures from his laptop, and their joy knew no bounds as well -- for us they were just moving pictures, but for them they were pictures of their own family, many of whom have since moved away and even passed away. We were treated to some old fashioned Indian hospitality -- where you entertain guests who came unannounced. It was a touching experience for me.
Later I learnt that our host, Mr. Koulagi had served as a secretary to Jayaprakash Narayan, a great leader of India. He took me to a hut where a very old woman was spinning wheel and making cotton threads. "She works whole day and earns Rs.300 per month. She is illiterate and feeble. Yet she can make a living. That is the magic of Khadi" explained he.
I must mention that it was the spirit of Khadi that liberated India. You probably have seen pictures of Gandhi with a spinning wheel that became such a powerful symbol of freedom and self-sustenance.
The Town of Srirangapattana
The historic town of Sriraganapattana was fascinating, because my arrival had been preceded by my reputation -- Vikas and I invested some money here, but I had never visited. Our friends from the town heartily welcomed us and I enjoyed the sight seeing.
See Also: Town of Srirangapatna
Everywhere we went, people were amazed how fluently Vikas spoke the local language. They said that because Vikas left India some twenty years ago, his vocabulary has remained pure and not corrupted by the use of TV or cell phone slang.
Town of Sravanabelagola
I must say that I was disappointed by my visit to Sravanabelagola, but that is all because Vikas didn't prepare me well. It is truly fascinating place where a naked man is smiling so meaningfully at the passing by world for the last 800 years. Millions come to pay respects to the naked saint, yet they are shocked by the presence of a nudist cult that lives here.
Both Vikas and Amma were overwhelmed by the occasion -- perhaps because of their keen sense of history and knowledge of Indian culture. But for me, it was too much of a complex culture shock and I am still trying to digest the experience.
See : Art and Artifacts of Shravanabelagola
Stunning Ornamentation of Belur & Halebid
My mother-in-law insisted that we visit medieval temples of Belur, Halebidm and Amritapura, and they are indeed a visual treat. You will admire at the development of art and sciences in ancient India. It was great to have a personal guide in Amma who would inter-relate the art, history, and mythological anecdotes.
The facilities for the tourists in these places are poor, but it was worth taking the trouble.
See related topics: Hoysala Art and Architecture, Amriteshwara Temple
Memorial from Bappa
As has been a custom now during our India trips, we visited schools and conducted cultural programs on behalf of Kamat Foundation, the Trust Vikas's mom has setup to honor Vikas's dad. The activities include running a library, sponsoring programs for kids, and development of cultural activities.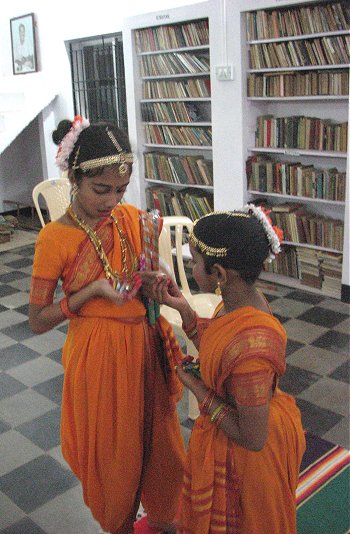 See Also: Kamat Memorial Center
Indian Landscapes
I love the colorful Indian landscapes. It was great fun to stop, enjoy, and smell (yes, smell!) the landscapes. The Malendu region is especially picturesque with its expansive coffee plantations, sunflower fields, and rivers.
However, the famed Jog Falls was very disappointing (despite of historically high rains this year); so I had to ask Vikas to describe how it was in its glory days.
India has a long way to go before they can convert her natural beauty into a tourist industry. I'm afraid that due to the fast changing dynamic of the country, it might be too late --already the forest vegetation, the wildlife are on the decline to to pollution and mismanagement.
Beauty of Primitive Living
I am very much attracted to the rural Indian lifestyle where people have time for each other -- even people you've never met.
I love the curving footpaths of village India where you have to walk though three people's yards to go to someone's house. The privacy is traded in for much larger belongingness in the community.
I also very much relish the food consumed by the poor people of India. It has a taste of honesty and hardship to it and it appeals very much to my soul.
Vikas Kamat/Kamat's Potpourri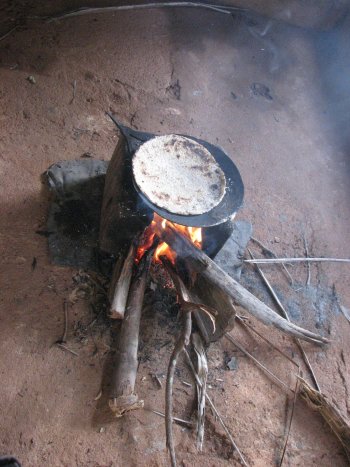 Coal Roasted Rice Bread
The rice bread is made by slow roasting cooked rice and rice flour
Pictures Taken During India Trip of 2007
---

At the Hoysaleshwara Temple
Amma explaining a sculpture in Halebidu

At the Sharavati River Valley
Near Honavar, 2007

Floral Welcome to a Wedding Hall
Wedding of Chakita Kamat, 2007

In Front of Jog Falls


The Magic of Khadi
"Khadi provides employment for old and feeble" said a social worker

The Newly Weds
Prashanth and Chakita Kamat, Bangalore 2007

Reaching for the Gourd
In the organic garden of Koulagi family, Melkote

The Red Carpet
Somewhere in Malnad region, Karnataka

Shepherd and his Herd
City of Mandya, Karnataka

Shepherd and his Herd
City of Mandya, Karnataka

Statue of Queen Victoria
Cubbon Park, Bangalore

Town of Srirangapattana


Vegetable Sellers in front of Nimishamba Temple
The village of Ganjam, Mandya District

Visiting Family Friends
With Jayashri Shanbhag, Mysore
---

See Also: