Kamat the All-rounder
First Created: March 22, 2003
Page Last Updated: January 03, 2018
Introduction
by Vikas Kamat
A feature at ThatsKannada.com once described K.L.Kamat as "The Analytical All-rounder".
"Kamat breaks the monotony of intellectuals who have become prisoners of college campuses. When a writer's experience in life is rich, it is reflected in his literary works. It is very difficult to characterize Kamat. His work is monumental not only as a writer and a scientist, but also as a photographer, as an artist, and as a cultural-ambassador of India. He is an environmentalist, a zoologist, and a dot-comer!"

-- Excerpted and translated from Kannada original, The Analytical All-rounder.
I'd say that is a fairly correct characterization of my father. He was an ocean of talent, finding beauty and interest in minutest elements of life.
Kamat is known as a photographer and a writer, and the entire website Kamat's Potpourri is a reflective of his work and research. However I am creating this section to document some of the lesser known talents of Kamat.
Kamat the Artist
Kamat had painted a number of sarees (Indian drapes) with designs inspired from ancient and medieval Indian art for my mother Jyotsna Kamat. These priceless works of art were stolen from us in Calcutta in 1978 during a burglary. Kamat re-painted many of them, and they are some of the most treasured items in our household.
K.L. Kamat/Kamat's Potpourri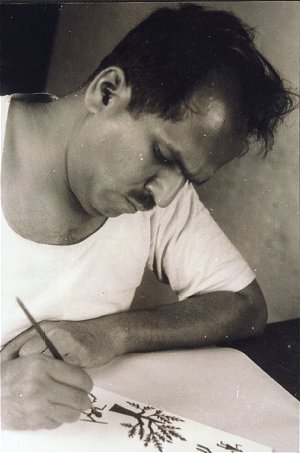 K. L. Kamat at Work
Kamat was an expert illustrator
Kamat also documented tribal life in illustrations he sketched on paper. In my opinion, these pencil sketches of tribal life he saw in Madhya Pradesh are a fantastic anthropological work on the subject. He has helped countless researchers with illustrations for their doctoral theses and publications. Kamat painted on glass (if you stand on 18th cross in Malleswaram, there's a house with designs of Ajanta caves on a window. That's our house), on seashells, on paper, and on sheathes of the supari tree. He was as well versed with water-color as he was with transparent color for photo-touching.
K.L. Kamat/Kamat's Potpourri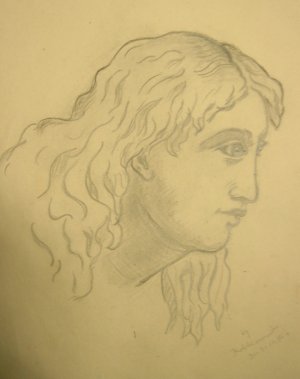 Pencil Sketch by K.L.Kamat
Kamat was an expert illustrator. Many illustrations on Kamat.com were actually drawn by Kamat himself.
Kamat the Scientist
Kamat's business was called Scientific Photo Lab., and it indeed was a laboratory full of chemicals, microscopes, and equipment. Kamat maintained a fine library of scientific books at home, and had collected old issues of Scientific American, and National Geographic.
K.L. Kamat/Kamat's Potpourri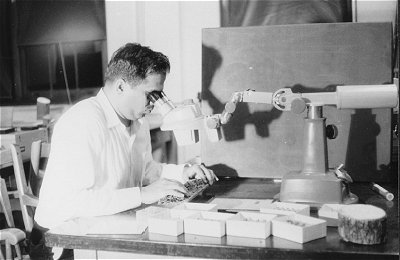 K. L. Kamat in His Lab.
Syracuse, Nov 1964
Kamat also wrote widely on science in the Kannada language. He was one of the foremost scientific writers of his generation in the language.
Kamat's Books on Science
Kamat was a Pioneer in Scientific Literature in Kannada Language
Kamat the Tool-man
Kamat's memorial volume honoring his memory is titled "Kammatiga", or "The Blacksmith". This is because Kamat was a very resourceful handyman. He could fix toilets with as much ease as he could make photo-albums. He'd make his own furniture, beds, and even tools. Kamat was a tailor as well. He would repair shoes and build electric equipment.
Kamat the Humanist
One of the reason my father had access to such hard to photograph subjects was that he was a friend of them. The lepers, the transvestites, and beggars might be misfits of the society, but my father treated them with true compassion. He didn't patronize them -- in fact has written condemning the begging profession as anti social and invited a lot of wrath of many critics, yet he was accepted by most of this group as one of their own. His was a tender heart. If a homeless man got hurt, Kamat was the one who went to a pharmacy, bought band-aid, and dressed the man.
It is that innocence that enabled Kamat to study such complex subjects as street-children, Muslim women, and pre-historic art of mankind.

Table of Contents

See Also:
External Link