Non-Illustrated Memorials
by K. L. Kamat
Majority of the tribals go in for very simple memorials. It may be just a heap of loose soil or a boulder on the site, which are protected either by wooden railings or thorn fencings. At times the dead man's clothes are spread on these to give a temple-like appearance. A few tribals take extra pains to bring unusual boulders from far off places and arrange them in a circular or semi-circular fashion. If a tiger kills a Gond, a boulder memorial will be raised and peacock feathers tied to a pole will be kept on the spot. A special offering will be made toward off the evil spirits and prevent the tiger from entering the village.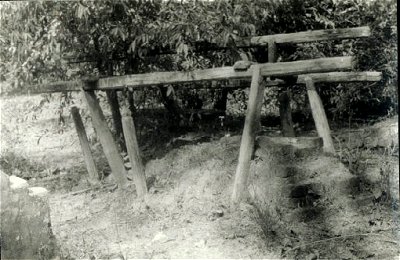 Earthen Memorial of Bastar
Great variations in these basic boulder types can be noticed. They may be shaped into pillar or phallic forms. On some, four or five blackened earthen pots, containing food and water to the dead, are piled one over the other on the memorial to form a gopuram. Mud memorials of different sizes, shapes are constructed, plastered and white-washed. Some look like miniature Taj Mahals and a few resemble tower of Pisa! Geometrical shapes like, rectangular, trapezium, with bulbous tops, are also not uncommon. In Bastar District (locate, map), tomb and temple like memorials are common. Some of them look like "tulsi" platform (Brandavan of the south) rather than a memorial. Often new memorials bear sign boards indicating the dead man's name and date of his death, though these tribals neither read not write! During the course of time, these boards are ruined by the villages, animals, insects and wood fungus.
---
Memorials of Madhya Pradesh
Origins | Distribution | Installation
Non-illustrated Memorials | Illustrated | Wooden
Sculpted & Painted Memorials | Religious
References