Wooden Memorials of Madhya Pradesh
by K. L. Kamat
Wooden Memorials
The tribals who have easy access to the forest, use wood for their memorials. Gathas of Bhils, Korkus and Marias are outstanding.
Bhil Memorials
In order to glorify the dead his appearance and life style are exaggerated. While alive, he might have worn a turban, loin-cloth, and wandered in the forest barefooted with a bow and arrows. But in a two paneled memorial, the lower one shows him in full North Indian bridegroom dress, including Rajasthani shoes and riding a decorated horse, attended by a servant! A woman fetching water and parrots feeding on fruits have been used as back drop. In the upper panel the man is holding a gun in the right hand and a sword in the left. Memorials for women are simpler and single-paneled. The lady is depicted in her bridal dress of a "lahanga" and a "odhani", with a full quote of ornaments. She holds a bunch of flowers signifying that she stands for love and peace. Feeding parrots are sculpted in the background, her kum-kum and the Tulsi shape of the memorial bear testimony to the Hindu influence. Sometimes, different colors are applied to these memorials.
Korku Memorials
These are the most abundant of all the memorials in the state. At one spot in Pachmadi, 50 to 60 of them could be observed. Nearby there stands a big granite column from a ruined temple. It has a row of ridges and furrows which has made the tribals to believe that it represents a king cobra which protects their memorials.
Memorials of the Korku Tribe
In general, they have a spindle format and are carved out from either sal or teak wood planks. Their spiked bottoms indicate that originally they erected in the ground. Their apexes are rounded off in a semi-circular fashion. A great many variations in size and shapes, derived from this basic form, could be observed. Each Gatha consists of one to ten panels, on the top of which sun and moon are included. These are the only memorials in which man's name and date of his death are included. This information in Hindi may be inscribed in any of the panels. Sun, moon and inscriptions are usually eliminated from single-panel Gathas.
The art employed is extremely simple. But these shadow type figures are full of vitality, form and composition which gives a very pleasing visual effect. By employing triangles and circles, unbelievable compositions are attained. Men, horses, elephants and birds are indicated more by symbols than by details. Two triangles with a trunk and a tail makes an elephant; a circle with a pair of wings makes a bird! The main theme is the dead man either accompanying or riding a horse and carrying weapons like a sword; even a gun is an important item in the composition. One or two servants holding an umbrella and other equipments indicate the man's status. Offerings like combs and coins, one or two trees in the background lend picturesque effect to the panel. At times, human figures are replaced by a crocodile, singing bird, a lotus or a palm tree.
The multi-panel memorials are better-planned and executed. At the base there is a human figure which the tribals claim as representing their priest or god. In lower panels rows of human figures standing hand-in-hand, probably indication the dancer in a single row. In upper panel the dead man is shown riding a horse and accompanied by his people. In some memorials, a tiny human is carved in sun and moon panel suggesting, that the dead man has gone to heaven.
Mavashiya tribals also go in for similar Gatha planks but they bury them in soil and hence these are permanently lost for the posterity.
Memorials of the Maria tribe
© K. L. Kamat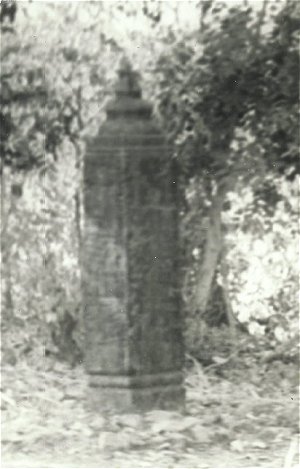 A Carved Wooden Pillar
Gidam, Bastar District
Size: 6 feet X 1 1/2 feet
In memory of a outstanding personality of a village, the Marias of Bastar (topics, map) erect a carved wooden pillar at the entrance of the village. They are either rectangular of cylindrical at base the bulbous of spherical at the top. Their apexes are decorated with wooden fish, bird or crocodile to which cloth ribbons are tied. Illustrations based on life of the dead can been seen on all sides. The man riding a horse, ploughing a field, giving away gifts, distributing the drinks are the favorite motifs employed. Fishes, birds, domestic and wild animals occupy the spare space. Some old pillars could be noticed between Gidam and Kirundale in Bastar. These days, they are rarely executed as the cost involved is exorbitant and beyond the reach of the tribals. A good specimen has been preserved by the Anthropological Survey of India, in their Jagadalpur museum.
---
Memorials of Madhya Pradesh
Origins | Distribution | Installation
Non-illustrated Memorials | Illustrated | Wooden
Sculpted & Painted Memorials | Religious
References