A Day with Gandhi
All Photographs by V.N. O'key
Commentary by Vikas Kamat
First Online: June 17, 2005
Page Last Updated: November 01, 2016
V.N. O'key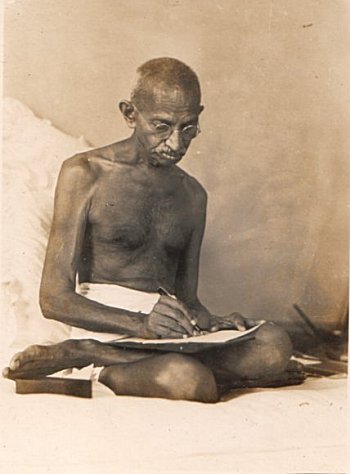 Gandhi at Correspondence
Photograph shows a frail Gandhi engaged in correspondence at his hermitage. Gandhi was a prompt letter writer, always responding to the letters he received. He could write in Gujarati, Hindi, and English languages.

V.N. O'key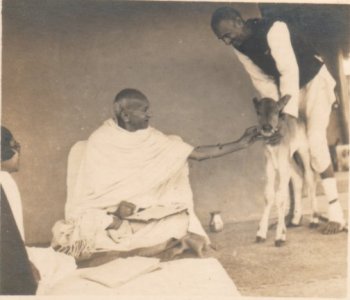 Meeting Interrupted!
In the movie Gandhi (by Richard Attenborough), there is a scene in which in the middle of discussing an important matter of grave consequence, Gandhi is shown stopping the conversation because "it is time feed the cattle!" The above still photograph depicts the exact story. A follower (possibly a patient of leprosy, notice his bandage) is bringing in a baby calf just as Gandhi is engaged in a meeting.


V.N. O'key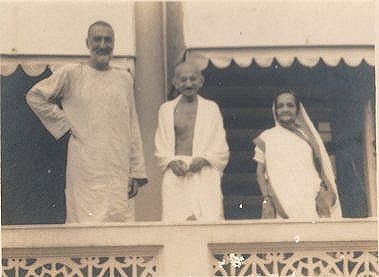 The "Gandhis"
"Frontier Gandhi" Badashah Khan, Mahatma Gandhi, and Kasturba Gandhi
I sometimes refer to this picture as "Taller than Gandhi" because it really shows how tall Badshah Khan (known as "Frontier Gandhi") is compared to the Gandhi couple.

V.N. O'key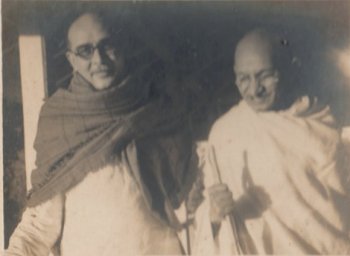 Mahadev Desai and Gandhi
Mahadev Desai worked as Gandhi's secretary and most famous as the translator of Gandhi's autobiography, "The Story of My Experiments with Truth"
I adore this photograph of Mahadev Desai and Gandhi, not only because it captures the closeness of the two great men, but because it is a rare photograph of the former. In fact, I could not identify him for a long time, because I had never seen his picture.

V.N. O'key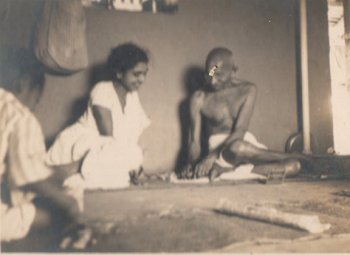 Gandhi with a Lady
Gandhi had a notorious weakness for "experimenting with young women" -- especially in developing his ability to conquer sexual feelings. These experiments have been a matter of great controversy and criticism by those who didn't approve, or understand them. The photograph shows Gandhi with an unidentified young woman at his compound, engaged perhaps in small talk. There is a boy playing nearby.

V.N. O'key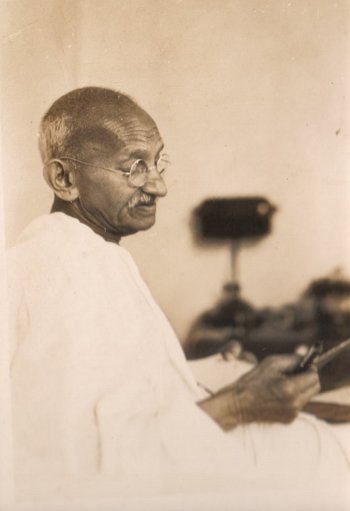 "Difficult Dilemma"
This amazing photograph catches Gandhi in a great dilemma --notice his thoughtful wrinkles on forehead and an uncomfortable smile , as he reads some worrisome correspondence. It is amusing because most people think Gandhi as someone having answers for everything.

Of course a day with Gandhi is never complete without running into other famous people. Shown below: Gandhi with Nobel laureate Rabindranath Tagore and with Pandit Madan Mohan Malaviya
V.N. O'key/Kamat's Potpourri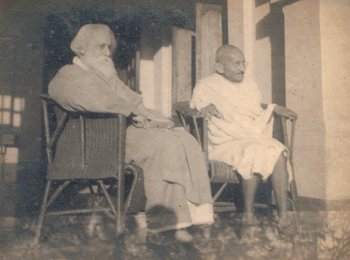 Tagore and Gandhi
The two leading thinkers of 20th century India
With Famous Visitors
V.N. O'key/Kamat's Potpourri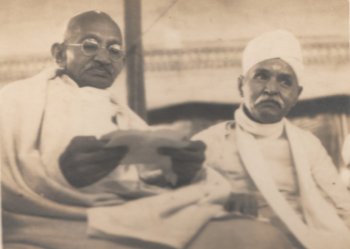 Gandhi with Malaviya
Village of Sevagram, Gujarat

See Also:
"As I Knew O'key" -- Socialist collegaue N.G. Goray remembers silent worker V.N. O'key.