In the aftermath of Sept 11 attacks, I have thought a lot about non-violent actions to fight terrorism -- to eliminate the root causes of terrorism. Even when I have supported armed action, I have believed that there must be a non-violent component to our response. A non-violent solution is not only enduring, IMHO, it is infinitely righteous one as well.

But how can we bring about a change in an environment infested with fundamentalism, ignorance and hatred?

I am concluding that we cannot (we as in "external to Muslim world"). That kind of reform can only come from inside.

We need the Muslims to have a leader like Khan Abdul Gaffar Khan (1890-1988) (a.k.a. Badshah Khan and Frotier Gandhi)

Gaffar Khan was born in Afghanistan and was a devout Muslim. He understood the power of non-violence as a potent weapon and found courage to convince his fellow countrymen that love and righteous behavior is the true message of Koran. His volunteer Islamic army Khudai Khidmatgars, or Servants of God, was a non-violent army, much like Gandhi's Satyagrahis and opposed British rule.

 

V.N.O'key/Kamat's Potpourri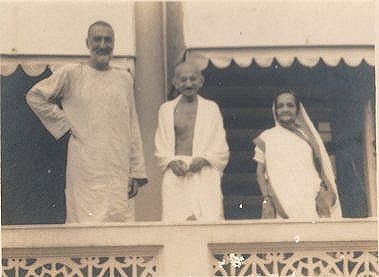 Taller than Gandhi?
Gaffar Khan visited Mahatma Gandhi in his Sevagram hermitage and the two great men inspired each other. In the photograph (never published before) above, they are seen together accompanied by Kasturba. Gaffar Khan was really a tall man, as you can see.
Links to Gaffar Khan's Biographies:

(Comments Disabled for Now. Sorry!)
First Written: Friday, May 27, 2005
Last Modified: 5/27/2005 10:17:45 AM