Konkani or Marathi?
In his widely read and distributed article The History of Konkani Language, Kamat writes that "..when Konkani language had reached maturity, the Marathi language was not even born." This view has not gone well with the folks who consider Konkani language as a dialect of Marathi language.
The close resemblance of some dialects of Konkani with Marathi has been the source of many a heated arguments and disputes all over India for a long time. It was not until recently that Konkani was awarded recognition as a separate and an official language under the constitution of India.
Today, Ravikant Bhat, a patron from the heart of  Maharashtra wrote to me asking on what basis does Kamat claim that the language of Jnaneshwari as Konkani, when most sources ascribe it as Marathi.
I have not read Jnaneshwari, and I do not have the linguistic depth to comment on what my father has written. However, I point to the following.
I searched through all of published scholarly research databases available to me to determine an approximate date of origin of Marathi literature, and I am not able to find the date of first Marathi manuscript accurately. Most sources attribute the origins to 13th century.
It is said that Sant Jnaneshwar wanted to reach the masses, and he used the language of the masses. If we assume that Jnaneshwar lived in the 13th century, he couldn't have written an epic in a language that was at its infancy, rather one in which that was established and popular. In the course of history, the Marathas claimed ownership of  the masterpiece and Jnaneshwar came to be worshipped as the "...founder of Marathi language and literature" (link).
Let us now move south of Maharashtra into today's Karnataka and back three hundred years to the 10th century. We see numerous instances of established Konkani culture, and art belonging to the Ganga and Hoysala period. In Saraswats of Past, my mother establishes that the very first Hoysala temple that was built, was by a Konkani lady. As a visual proof, I am providing a picture  (of 10th century) here that clearly shows the Konkani words "karavaille" at the bottom of the great Gomateshwara statue (Gomata in Konkani means handsome) at Shravanabelagola. This is in a area far away from Marathi influence, and in the Dravidan heartland.
© K. L. Kamat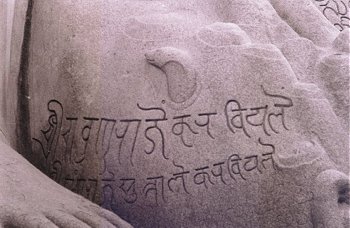 Marathi or Konkani ?
Again, you might see many people argue that this indeed is Marathi, due to the closeness of the sentence in spoken old Marathi, and the script that's been used. But wait, how can you write in a language that is not born yet?!
IMO, it is possible that Konkani and Marathi both originated and evolved from this intermediately language that Jnaneshwari is written in, as is the above inscription.  But as Kamat has written, due to the tumultuous events of last 700 years the Konkani community has been fragmented and has lost much of its originality and literature, whereas Marathi benefited from patronage under the Marathas & Peshwas, and the homogeneity of its scholars.

(Comments Disabled for Now. Sorry!)
First Written: Wednesday, January 22, 2003
Last Modified: 1/22/2003