Some Hindus are campaigning against providing patronage to M.F. Husain's paintings, and I have also received complaining emails.

They are complaining that M.F. Husain has painted Hindu deities in nude.

Guys, cloth is man-made!

Showing men, women (and gods) in nude is a honest and most natural way to depict them.

What is so offensive about nudity anyway? Hindus are ones who invented nudism. Aren't we the culture that worships genitals?

The accusers say Husain's paintings are disgusting, instead of stunning. They say Husain is insulting Hindus.

Do you know the difference between Islamic fundamentalists and Hindu fundamentalists? The answer is none. They are both intolerant, ignorant fools.

Specimen Example: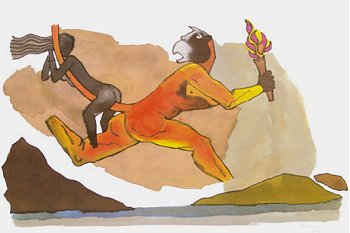 This picture shows Hanuman burning the island of Sri Lanka with a torch as Sita hangs on to his tail. The accusers are saying Husain meant to depict Sita masturbating. Perversion is indeed in the eyes of the beholder.
Perhaps M.F. Husain is guilty. He is guilty of being a Muslim. He is also guilty of being a genius.

See Also:
• Asian Arts: M.F. Hussain's Paintings Exhibit
• Pictures and Tales from Indian Mythologies
• The Linga Worship
• Hinduism Potpourri

(Comments Disabled for Now. Sorry!)
First Written: Tuesday, November 22, 2005
Last Modified: 11/23/2005 8:33:08 AM