On Condoleezza Rice
Condoleezza Rice (Condi) is from Birmingham Ala., where I live.
I am told that she grew up in a house not very far from where I once lived, where her father ran a small church and was a preacher, and where her mother played the piano. Condi's father conducted biracial Bible-studies and I know of ladies who remember the seven year old sportive Condi playing piano and helping with errands.
I am very proud that a colored woman from Birmingham has grown for the highest offices in the world. While I do not share her views or policies, I was proud of her appointment as National Security Advisor then, and even more so now for her appointment as Secretary of State.
© Vikas Kamat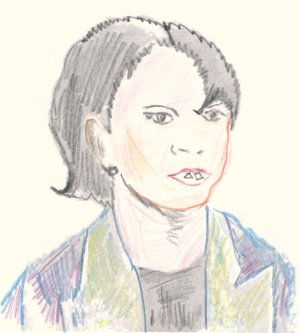 But apparently the African American community of Birmingham is not proud. She is even treated with contempt.
When I heard this, my first reaction was what?!
Then I dug deeper, and here are my thoughts:
Condi is despised by blacks, not for her shortcomings or qualities, but due to her association with President Bush. I am convinced of it.
Perhaps Condi doesn't represent the blacks. Just like the newly elected senator of Indian descent, Bobby Jindal (R. Louisiana) doesn't represent Indian Americans.
"What has Condi done for fellow African Americans?" one could ask, and the answer would be "nothing". It is the same accusation against Colin Powell. Their contribution to the African-American community pales compared to someone like Jesse Jackson. However, I am disappointed to ask why can't a black man (or woman) get recognition for rising above the racial politics? Abe Lincoln belonged to us all, not just to whites or Republicans. Gandhi is a role model to us all, not just for Hindus or Indians.
My prediction for 2008 polls: It is going to be Condi Vs Hillary election. Woman Vs Woman. Black Vs White. Brilliant Career Vs Brilliant Career. (Condi has recently been chanting "My dad told me I could become President of USA, even though I couldn't buy a hamburger in Woolworth's then")


Update Nov.20. Many readers have written that Condi gets no love, because she is untrustworthy, and a manipulator of facts.
Update Dec. 8 '04. I saw Donald Knuth (who is like a demigod) withdraw his warm opinion of Condi. (via Rogers Cadenhead)

(Comments Disabled for Now. Sorry!)
First Written: Friday, November 19, 2004
Last Modified: 12/7/2004 10:42:50 PM