The Town of Chotedongar
by K. L. Kamat
After learning about my intentions, the conductor seated himself next to me and proceeded to give me a brief introduction. He was eating paan and his breath smelled of alcohol, but I needed him, and tolerated it. "The government has started this bus service for the betterment of these lousy tribals, so that they can go to Narayanpur easily. But these scoundrels walk the distance instead, and reach the destination ahead of us! It is no use giving such facilities to these people," he lectured. The driver complained that he didn't get more money for driving on these rough roads, fraught with dangerous rocks and mountains. "But it's beautiful out here," I tried to change the topic. "Oh yeah, it's pretty to watch from the window. Do you know how difficult it is to drive, though? Do you know how many accidents have happened here? And when we do have accidents, no tribals come to help. We have to wait for help from Jagadalpur... "
I anxiously inquired whether anybody in Chotedongar would be generous enough to let me spend the night with them. "The tribals are still stuck in the first century, so there is no fear of thieves or crimes. You can sleep under any tree without any hesitation. If you insist on a roof, there are some government buildings which are supposed to be a school and a hospital. But there are no teachers or doctors. So no patients or students ever go there and you can live there as long as you want," the conductor suggested.
On the way, we ran into a tribal festival. I inquired if I could take some pictures, but the conductor and the driver unanimously me advised against it.
Eventually, the bus got to Chotedongar, and pulled up in front of the hospital. All the children of the village converged on to the bus, and drew pictures of elephants and monkeys in the dust accumulated on the exterior of the bus. The conductor chased them away, but the kids asked me where I wanted to go. They could not believe that I had come to visit their village. One of the more mature kids told me that it was not correct for me to spend the night in the hospital. He said there was a government guest-house that I should use instead, and the kids carried my luggage to a building nearby. They then introduced themselves, and ran away. For the next one week, they provided me with very good company.
The building appeared to have two rooms, but nobody responded from within to my coughs and calls. I took a stroll around the building and found some half-eaten food. This indicated to me that food was available. Still nobody appeared. I waited for a few minutes and then spoke to a man who came to get water from the well nearby. "Sitaram has gone to the bazaar; he will be returning soon," the man assured me. I heaved a sigh of relief. There was a beautiful garden in front of the building, and there were butterflies flitting about. I wanted to photograph them, but I was too hungry. Meanwhile Sitaram arrived and greeted me as if he had known me for many years. I asked if any food was available, to which he said, "Anything you want, Sir. But first I have to go and buy groceries from the bazaar, which takes about two hours." We shared the brown sugar and flaked rice that he had got for himself. Never before in my life had I eaten a meal so delicious!
I slept and woke up to enjoy tea without milk and sugar. I paid Sitaram for the groceries, asked him to cook supper, and joined my gang of kids to have some fun. The women of the village were amused by the sight of a pants-wearing man, at the helm of a bunch of troublemakers. My young friends showed me Chote (meaning "small") Dongar (meaning " rock"), a huge rock on the west side of the village. They explained that the village to the east has a bigger rock called Badadongar, and the one on the north is called Dongargaon (rock village). Other than the chirping of the birds, there was total silence. The fields, mango plantations, the crystal-clear river (in which I could see fish swimming about without having to fear the fisherman), and a family of bathing ducks were all a feast to the eyes.
© K. L. Kamat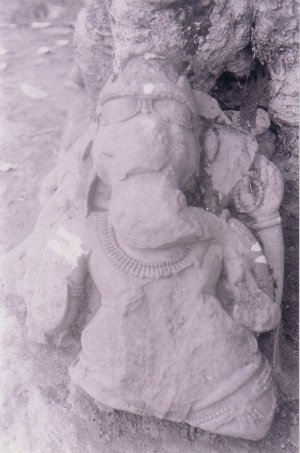 Idol of Ganapati
We then went into a small hut. A girl explained that it was the temple of the village goddess. We had to kneel down and crawl inside to enter the temple. The idol of the goddess hung from the wall in a grass basket. By the time we finished offering prayers, everyone was choking from the lack of air inside. We cooled off under a Banyan tree. There were several beautiful statues of Ganapati and Vishnu under this tree. When I inquired about who brought them here, the kids authoritatively explained that nobody brings the gods anywhere. They told me a heap of such similar statues were there on the lake-shore, and took me there. The white lotuses in the lake looked beautiful. Two bathing girls in the lake shied away. Although my camera was ready, my mind didn't want to take advantage of the photo-opportunity.
There were two temples on the lake-shore, both almost in ruins: one contained a Shiva Linga while the other had a Tulsi plant. Several statues were buried in the mud. I excavated some statues with the help of monkey army (my kid friends, Vanarasena) It was all in ruin. In the excavated stones, I recognized that some of the inscriptions were either in Kannada or Telugu-like language. I recalled that the Rashtrakutas (757 A.D. to 973 A.D) and Chalukyas (500 A.D. to 757 A.D.) of the South had at one time expanded their kingdoms northward, to Central India, (see Deccan Dynasties.) I would not be surprised if they were erected by some Telugu king. I later asked the village headman about them, but in vain.
Because the huge rock blocks the sun, it gets dark early in Chotedongar. At dusk, the villagers lit campfires and started singing. The tribal houses are built on a raised platform for protection against wild animal attacks. It was funny, but quite necessary to have cows and other domestic animals on the platform. Around their campfires, the tribals talked very loudly and frequently broke into song "Lo Lo Lo Lo Lo ..." The moon appeared in all her glory. I wanted to go to the lake and play in the water.... I regretted that I hadn't asked a couple of youngsters to stay back with me. Slowly the noise from the campfire diminished as I reluctantly fell asleep.
The chicken kingdom woke up the rest of the animal kingdom at four o'clock the next morning. I took a stroll. Apparently a villager, who had found hoof prints of a boar in his field, was worried; when he later found the boar trapped in a ditch, he was jubilant. The entire village arrived decked in all imaginable armor, in order to hunt the boar. They killed him and shared the meat. Nobody invited me for the meal. The kids didn't show up; this turned out a blessing in disguise as it allowed me to visit Mundatikara.
I felt that if I were accompanied by a local, I could get to the adivasi tribals easily. I was very popular with the kids; I spoke Hindi with them, in addition to some local words I had picked up. They started calling me Master Saab ("teacher" or "sir"). When I asked them to find me a guide who knew the trails well, they pointed me to Sukhdev Rajamestri.
I went to Sukhdev Rajamestri's hut. His adivasi wife, busy at work, was shy, but hollered at her husband who was asleep in the yard. He was the carpenter and the tailor of the village. Apparently he had no work on that day. I asked him how much he earned per day, and said I would pay him twice as much if he would be my guide. His joy knew no bounds. His wife, who was convinced that her husband was good for nothing, could not fathom why a modern man would come to their house in search of his services.
Everyday my guide and I would go to a new place by foot. By the time we returned, the monkey-gang (Vanarasena) would be waiting for us.
| | |
| --- | --- |
| Next: The Marketplace of Jagadalpur | |
See Also: