Arrival in the Gond Forest
by K. L. Kamat
First Written: July 1983
Last Updated: May 09, 2017
By popular demand, we extending the stories of Bastar travels online. Readers are encouraged to buy the author's CD-ROM for a more complete coverage.
| | |
| --- | --- |
| | Previously: I arrived in Bastar District and got myself acquainted with the help of a local guide. |
As soon as I arrived in Chindwara (locally pronounced Chhin-dwada), it rained continuously for six days. After a short lull, I stepped outside to acclimatize myself with surroundings. The Adivasis (natives, or tribals) greeted me with a "Jairamjiki (Hail the Lord) ". One Aheera (shepherd) asked me if I was going to visit my fields. It was obvious that everyone that lived in the town was a farmer. I couldn't walk too far in the muddy water and took a rest on a big boulder. A Gonda elder walked towards me slowly. He was holding a stick in one hand and a bag in another. He had worn dothi, a red rumal and a mustache that resembled that of a sea-lion. He had a shirt with about ten secret pockets. His attractive personality was very photogenic. He passed by me and then, as if remembered something came back and sat next to me.
© K. L. Kamat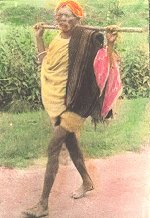 "It's been raining as if a dam has been broken in the heavens. This is not good for the newly planted plants. If the king of rains waits one week, it will be very good." As he spoke, his hands mechanically pulled out a bag and made himself a hand-rolled cigarette (beedi) and lit it. Then he puffed a couple of strokes of pure joy. He used flint stone as a lighter and I told him that I admired his skills. "This is no big deal Babuji. The Adivasis can produce Agni (Hindu god of fire) just by rubbing bamboo sticks," he explained. Meanwhile he had to relight the cigarette, and flint stone did not cooperate; he tried many times without complaints or regrets.
The old man continued, "You are an educated man who knows the damage caused by the tobacco. That's why you don't use it. People like me have to have it. You are an educated man, and I have nothing to tell you, however, I will tell you a story of why farmers smoke. Once Lord Shiva was taking a walk with his lover. A farmer prayed to the God that the bullocks are not cooperating with him to plough the fields. Shiva pulled out handful of tobacco from his pocket (I wondered how the skin-clad Shiva could have a pocket..) and gave it to the farmer. The farmer had to cure the tobacco and smoke it, which took a couple of hours. When the farmer resumed ploughing, the bullocks were well-rested and started working again. The farmer spread the words and since then my family smokes tobacco as a continuation of a tradition."
Remembering his boyhood, the man said "when I was young, nobody cared for tobacco. One Kaas (1/16 of a Rupee) could buy you two handfuls of tobacco. Today even if you spend one Rupee, you can't get a handful. The tobacco has lost power. In those days one beedi made me dizzy. These days I don't get a cough even after a bundle. They rip us off in three ways. When I asked them to roll cigarettes, they steal the tobacco. They steal the beedis and then they charge me for the labor. The times have changed now. Those days I could go anywhere at anytime. These days I have to hide money in secret pockets. The times of Kalki (an avatar of Lord Vishnu) have arrived!"
"Are these fields yours?" he asked pointing towards the farms behind us. "Here you have not started sowing yet. In the previous village, they've finished it... It's difficult to walk in this muddy water. My stick helped me from falling twice. It also helps as a weapon against thieves... I've been walking for six hours. I sat because I saw you. I still have a long way to go. You'd also better go; it's going to rain again." and he left. I didn't know where he came from nor did I know where he was going, but his shape, sharp features, and his talk still remains with me. I went home, and it poured again. I thought of the old man and his situation.
The Gonds live in tiny villages. Early in the morning they go to nearby townships, work the entire day and return home in the night with purchases. They walk home talking about politics and checking to see if they got a good deal with the merchandise. If they have to transport a large quantities, they use a cart belonging to the Mahabharat period! Once one of bullocks pulling the cart was a muscular bull and other was a tiny baby. The riders had a hard time maintaining the balance. These villagers have the habits of greeting of one and everybody with "Jairamjiki." The wealthy ones ride a horse. The Gond women always walk in teams. They have muscular and well built bodies as if carved out of black marble. They wear saris of red, blue, green extending to nine yards. They wear a lot of jewelry mostly made of silver, and other cheap metals.
K.L. Kamat/Kamat's Potpourri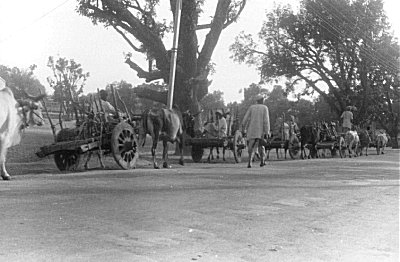 Back from the Village Fair
Gonda tribals in Chindwada returning home
Wealthy Gond families use bullock carts when traveling to city. They tie bamboo carpets in an arch to protect from the sun. They decorate the carts with animal motifs. They have wooden grills around the cart to prevent goods and people from falling. It is typical that the Gond man walks beside the bullock cart as a cart-guard. When the bullocks get tired, they rest them under a tree, share the food and resume the journey.
The young ones also wear the same attire as the elders. It's funny to see infant girls in sarees (see: Sarees). The girls and boys mix freely and hang out together. When they encounter a stranger, they pass them quietly and immediately burst into laughter making the strangers (me) uncomfortable.
Since Gond women work for paltry sums of money, they are popular workers in the towns. Washing dishes, cutting wood, and hauling goods are typical jobs they perform. Since they are simple and honest they do not require supervision. Many women are self-employed and carry grass and wood from forest and sell it in the marketplace. They also buy goods from towns on the way home. Typically they buy butter, mangos, and bananas. Just to sell goods worth four or five Rupees sometimes the women have to wait whole day. They are careful spenders and are often ignored by merchants.
See Also: