The Jagadalpur Bazar
Stories of Bastar Travel by K. L. Kamat
Excerpted from author's the Timeless Theater CD-ROM
| | |
| --- | --- |
| | Previously: I arrived in Bastar District and got myself acquainted |
I was lucky to reach Jagadalpur on the day of the weekly market. It was festival mood everywhere. Villagers from nearby communities woke up early in the morning, ordered their wives and children to get ready, distributed the goods that the family had to carry to the marketplace and walked rapidly to secure a nice spot for trading. Most folks prefer to walk to Jagadalpur. When a four-year-old got tired of walking, he was placed in a bamboo basket that his elder brother was carrying. The kid was enjoying his joy ride. I also enjoyed watching a little boy carrying chicken; he was hanging four chickens as if they were garlands.
I heaped a rich harvest of photographs and sketches by sitting at an appropriate junction. The men would wear towel turbans and hung flowers from every edge; there were five copper rings for each ear; their muscular bodies covered with tiny pieces of linen. Most people also carried bows and arrows. Most would be tired and sweating because of the sun, long distances, and heavy weights. I took a portrait of a young man who seemed very pleased; he dropped his goods, pantingly he asked me "Babuji, I'm very poor; I don't have any money now. But I will give you this arrow. Give me my picture." I regretted that I couldn't fulfill his small request. I asked for his name and address so I could mail the photos later. I should have known--he had no address. Every time I look at his picture, I'm reminded of his innocence.
© K. L. Kamat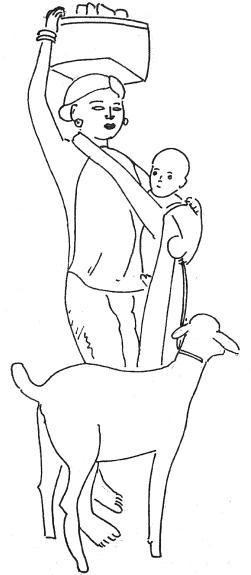 A Tribal Woman at the Weekly Marketplace, Jagadalpur
A young lady was waiting for her daughter to join her. She was carrying everything she had: a goat, a basket on her head with few clothes, and a baby who was constantly drinking and playing with mother's breasts. Eventually, the daughter arrived, but was too tired, and started crying. But the mother was running late, and carried a baby, too, and took off like a loaded truck. I thought of some women in Bangalore who go to the bazaar in a taxi to buy a coconut. I had also found that Adivasis were very proud and refused any help from strangers. So I didn't even bother to offer my help.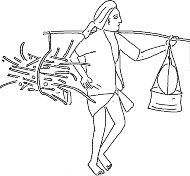 Man Carries Goods to Marketplace
I cannot generalize the Adivasis' ways and means of carrying heavy goods. They did not seem to know that carrying on head or back was most effective, and tried all kinds of postures. A youngster was carrying wood on his shoulder, whereas an elderly man was hanging his wood in a basket from a shoulder. A middle-aged man hung a pumpkin on one end of his bow, and balanced it on his shoulder by hanging clothes on the other end. His hands were free to light a cigarette (beedi--filterless tobacco roll.)

It was a pleasure to see tribal's package sod. They cut the grass at precise length and roll it like a sushi; the rolls are neatly placed on top of another and placed on one's head. Similarly the mud pots are stacked and transported. The basket seller looks like Hercules because he looks as if he were carrying a mountain.
No fancy dress competition can match the diversity, decor, and ornaments of a tribal marketplace. It's very difficult for the women to sit on the floor with their tiny saris without exposing their inner thighs. Hence they carry small light-weight stools. Some use it as a platform on top of their heads, and a few use it as a weight on flyable objects. One can do a doctoral thesis on their hair styles. Some had hair balls, and some used ribbon and coconut fibers. Some used real flowers, and a few others had rolled ribbons as flowers. Everyone had some kind of earrings made of gold, silver, aluminum, or brass. They wore beed necklaces with colorful lockets. Their noses were pierced with all kinds of nose ornaments. I was told that you could tell the tribal origin by the way the noses were pierced.
© K. L. Kamat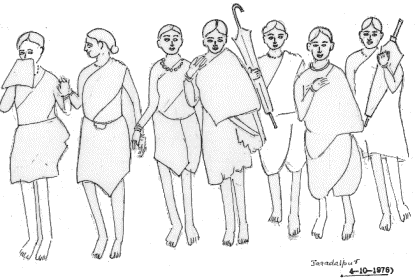 Tribal Women in Town
They wore silver bangles for hands and feet. These act as emergency funds, and get sold in case of difficulties, and it was common to see aluminum replacements. They were delicately carved/cast. Most women wore green, red, or blue saris except one community who wore only white. It looked to me that they were the wealthier tribe. Nobody wore blouses, but some were carrying bed sheets or towels for a cover. I do not believe that the breasts are considered sexual organs among the tribals of Bastar. They did not wear bindi (kumkum), but everyone had tattoos. Most of them had them on the cheek, throat, and arms, but I noticed a few on the breasts and thighs. Everybody walked barefoot, without any exceptions.
The weekly market was an amalgamation of contradicting thoughts, lifestyles, cultures, clothing, and economic status. There was a Bengali who came as a refugee here and was spreading wings; there was a Bihari who was chewing tobacco; there was a police officer who could get enough bribes in Bhopal; government clerks, local merchants, genuine police, mischief mongers; everybody was there. There were all kinds. One high official sent a policeman to me inquiring about the purpose of my visit and my photography. I told them that I was writing a book. Obviously the boss was not satisfied. The policeman returned to ask the title of my book. I wrote on a sheet of paper "Detailed studies of social, economical and religious life of Madhya Pradesh tribals." I don't think they understood, but I got their total cooperation and sympathy.
There were several Mughlai teams who were trading. Mughlai girls are very pretty. Somehow they seemed very rich. Everyone was wearing golden jewelry. Although these are not tribals, because of local influence, they think, and dress like one. So I thought they would be scared of camera too. Not! A friend announced the cashier that I took her picture. She smiled at me, and offered me paan. My wife never offered me paan in my life, and I was shy. I had believed that only women of ill fame engaged in such activities. I realized that it was the local way of saying thank you. They never objected for my plentiful photography. I dearly wished that the tribal girls did the same...


Exploitation of the poor is a sure sign of modernization."


An entertainer was going around in a fancy dress and with a musical instrument. Even poor people offered him money. There was a crowd at a corner; I thought it must be a magician or a snake charmer. Actually, there were two pretty girls who were selling fruits they picked in the forest at an absurd price of 10 paise for a heap (approximately 1/3rd of a U.S. penny). I learned to keep away from such crowd for personal safety and the safety of the camera.
The Adivasis sold everything that they brought with them, and bought salt, oil, cheap candy, and brown sugar (jaggery.) They were in a hurry to return before dusk, and the local merchants took advantage of their situation by offering extremely low prices on their goods, and by charging high values on the merchandise. Most of the day of the tribals was spent walking back and forth to the marketplace. They got only five Rupees for about fifty Rupees worth of goods and had to pay five Rupees for salt, etc. that cost only five Paise. Just not fair! Is exploitation of the poor an indication of modernization?
| | |
| --- | --- |
| Next: In the Gond Forest | |
See Also: