"Vande Mataram", perhaps the most famous song from India is 100 years old today.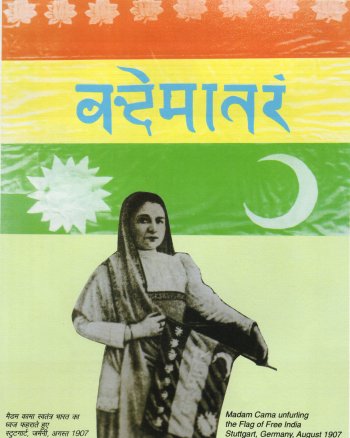 The song, very poetic in describing the abundance of India, represents a lot of things. It was featured on the first Indian flag unfurled by Madam Cama, and Lala Lajpat Rai ran a newspaper by the same name.
Amma (via a private email): In very typical Indian tradition, there is a protest against singing of "Vande Mataram" in schools. Some Muslims are claiming that the song glorifies someone (motherland) other than Allah, and are refusing to sing. The Central Government, who issued a circular to sing the song on the occasion of the centennial, later withdrew it. However most of the Indian Muslims have ignored the protest and participated enthusiastically in the centenary celebrations of "Vande Mataram". Mother India must be smiling over this foolish bickerings!

Yet Another Use of Vande Mataram
Personally, I have found beauty in each and every word of the song Vande Mataram, and consider the song is a great source of baby names!
Examples of beautiful Indian Names from Vande Mataram: Sujala, Suphala, Sheetal, Shyamala, Shubra, Jyotsna, Pulakita, Yamini, Fulla (Prafulla), Kusuma, Shobhini, Suhasini, Madhur (Madhuri), Sukhada, Varada
And all these names, with such beautiful meanings, just from the first stanza! I bow to the genius of Bankim Chandra Chatterji.

(Comments Disabled for Now. Sorry!)
First Written: Thursday, September 7, 2006
Last Modified: 9/8/2006 2:35:09 PM