In Appreciation of Marathi Koli Folksongs
In our joint-family, many of the elders studied in the erstwhile Bombay Presidency and knew Marathi very well. The Antakshari games my aunts used to play when I was young were invariably in Marathi, and I know lots of Marathi folksongs, theater songs (Natyasangeet), and devotional songs (Bhaktigeet).
During a recent road trip to Chicago, Milwaukee and back, I happened to carry a CD of Marathi folksongs, known as Koligeet, or the songs of the fisher-folk, and the music took me to my childhood.
© Vikas Kamat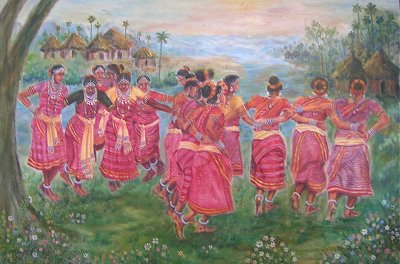 Koligeet or Songs of Fisherfolk is a unique genre of Indian music
All the songs in Koligeet are set in the background of river, sea, storms, and other coastal artifacts. The songs feature melodious tunes, playful themes, teasing, and innocence of a lifestyle that is lost since. Each song has a repearting rythm that reminds of the waves in the sea.
If you have never heard it, and know even a tingy bit of Marathi or Konkani, I encourage you to discover the Koligeet music. Lata Mangeshkar and Asha Bhonsle have sung many Koligeets, and I'm sure you can find them online.
Several Bollywood songs have been inspired by Koligeets, but I haven't heard even one that lives up to the beauty of the originals.
Some of my favorite Koligeet songs:
• me dolkara dolkara dariyata raja sung by Lata Mangeshkar and Hemant Kumar
• disalaga bayi disala sung by Asha Bhonsle
• badala waro sutalago

(Comments Disabled for Now. Sorry!)
First Written: Saturday, October 7, 2006
Last Modified: 10/7/2006 7:51:19 AM
Tags: folksongs