Hindu Boy Turned Islamic Terrorist
via Kamat News): A Hindu who became a Islamic Militant

Amma on Amma
© Vikas Kamat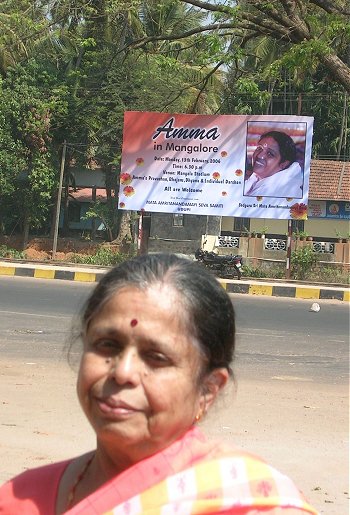 My Amma (Jyotsna Kamat) in front of a Signboard Featuring Amma Amritandanamayi, Mangalore, 2005
The other day, while talking about women saints of India, Amma and I spoke about Amritanandamayi, popularly known as "Amma" or the "Hugging Saint". I had heard of her, but due to my personal prejudice about godmen (and godwomen) I had not cared to learn more about this amazing person.
Born into a poor fisherman's family what Mata Amritanandamayi has achieved is no less than a miracle. I will just point to the websites:
Although Mata Amritanandamayi doesn't claim any religious affilication, I feel she is a great diplomat for India, for Hinduism, and for India's spiritual tradition.
We have to go to history books to read about great saints such as Meerabai, Akkamahadevi, and Andal. But here is a saint who is living right amongst us.

(Comments Disabled for Now. Sorry!)
First Written: Tuesday, November 7, 2006
Last Modified: 11/7/2006 12:12:51 PM