Thanks to her illustrious career, her outgoing personality that dwells into the achievements and legacy of the persons she meets, Amma has been a pioneering biographer for India. Her biographical sketches of many great men and women of India are featured in her books, and on this website, and in her blog.

I am delighted that "Sapna", a leading publishing house in Bangalore has commissioned a biography of Amma. I guess the book (in Kannada language), could be titled "Biography of a Biographer"!

The writer, Dr. Geeta Shenoy, who studied all of Amma's books in preparation of the biography, is greatly inspired by Amma. In a private message to Amma, she writes --"(Before starting the biography),I knew about your popular writing, but I didn't know the merits of your serious works. I've been greatly influenced by your writing on women's issues and studies on Indian women. While being very sympathetic to women's causes, your research is very objective, deep, scholarly, and insightful".

What can I say? That's my Amma for you!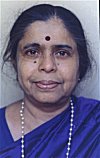 Amma will turn 70 in January, and I think this will be a fitting book.
Now, if someone could write a book about Bappa, that would make my year!

(Comments Disabled for Now. Sorry!)
First Written: Tuesday, December 19, 2006
Last Modified: 12/19/2006 8:51:48 PM