Indian novelist S.L. Bhyrappa (I am calling him Indian novelist rather than Kannada novelist -- because translation of his books are as popular outside Karnataka as his Kannada originals and Bhyrappa perhaps the most read, living Indian novelist today) has written an explosive new novel -"Avarana" or the "Coverup".

First of all, you can't read the novel, because it is sold out. They had to bring out the second reprint even before the the release of the book, and even those were sold out within a day. This never happened in the history of Indian books or Indian literature.

I have not read the book, but apparently, "terrorism" and "search of truth" are the central themes of the novel. A family friend, who read the draft told Amma that he felt the story was "too dramatic and too explosive" for the ever so "religiously conscious and secular" Indian readers and had told Bhyrappa so. I totally commend the author and the publishers in going ahead with the book -- because that is the essence of novel as a medium. I mean, since when we are not free to think and ponder the possibilities ?!

Truth, aesthetics, and possibilities have always been Bhyrappa's strength along with his academic research he puts in behind the stories. I can't wait to read it.

I expect the book to be banned in India because it might hurt the sensitivities of some people. So, please order a copy when you still can.

I also look forward to the day when India and Indians will grow up and not protest against books, movies, or paintings.

A Lost and Found Photo from Kamat Archive
I found this picture of me seeking Bhyrappa's autograph (circa 1981)
© K. L. Kamat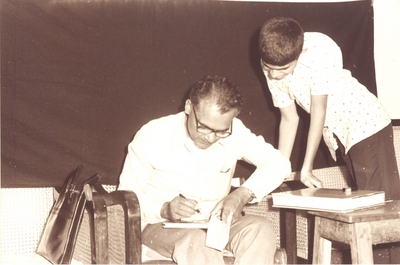 Reading Great Novels is Great Fun
During my trip to India, I told Amma of my desire to write a novel, and she recommended that I first read some great novels for the techniques used them. It was a great suggestion, because I really have not read much fiction. Amma even recommended specific books.
It has been a great experience reading them -- definitely more fun than imagining my own plot, and I am amazed by the ingenuity of the writers to weave geography, events and personalities to create such memorable characters and incidents.
(Comments Disabled for Now. Sorry!)
First Written: Friday, February 23, 2007
Last Modified: 2/25/2007 9:31:50 PM