In the recent years, Ganesh Chaturthi has become one of India's biggest festivals, but there is one perspective of the festival that is not well addressed. It has to do with the disposal of the Ganesh idol (known as Ganesh Visarjan).

You see, the devotees go the extra mile to procure the most artistic and fanciest idol of Ganesh they can find or afford, and all the festivities follow. The problem arises on what to do with the idol after the festival. How to dispose off the idol (typically made with clay, and is painted upon) in a dignified way?

© K.L.Kamat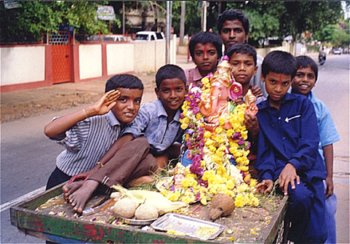 Boys during Ganesh Visarjana
Boys on their way to immerse the idol of Ganeh in a lake
Notes on Ganesh Visarjan
In the traditional households, the idol was immersed in the wells, or local rivers. But in today's urban India, there are neither the wells, nor lakes. Further, the modern synthetic paints and chemicals applied to the idol are unhealthy when dissolved in water meant for human consumption.
Due to enormous weights (some idols, erected in public ceremonies can be very big), transporting the idol safely to a place of disposal is also a problem.
© K.L.Kamat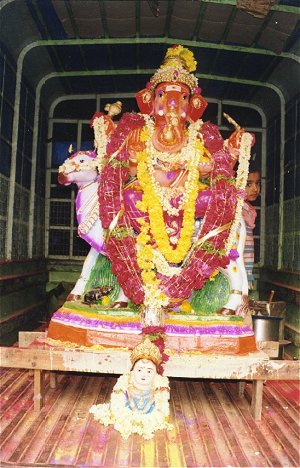 Ganesh Being Carried to Visarjan (disposal) in a Truck
Ganesh Festival Celebration in Bangalore
Then there is the security problem as well. Many devotees use the Ganesh Utsav to show off their prosperity by donating absurd amounts and jewelry to Lord Ganesh, and the disposal of the idol invariably results in abuse of the money hence collected. What do you do with the jewels offered to the idol? Obviously, someone takes them home!
Anyway, one year when Bappa was alive, he and I spent the evening on Sankey Lake in Bangalore pondering these questions, and amusing ourselves by studying the devotees who were really having a hard time disposing the idols. If you worshiped an object as divine last week, how can you dispose it off standing on a bridge and throwing it in a public lake?

Milestones, Anniversaries, and News from Kamats
Prabha Kamat, featured as the anonymous housewife in many of our pictures (see Pradakshina or Cleaning the Jackfruit), has passed away in Honavar. She was my aunt.
It has been 100 years since Gandhi's revolutionary book "Hind Swaraj" came out. Read many excerpts in Amma's Column
Kamat's Sasya Parisara is being reprinted by Navakarnataka Publishers
Amma's new book "Kaigannadiyalli Kannaditi" (in Kannada) is coming out shortly
(Comments Disabled for Now. Sorry!)
First Written: Saturday, September 29, 2007
Last Modified: 9/30/2007 10:50:07 AM
Tags: visarjan