Translation of Ajeeb Dastan Hai
The song Ajeeb Dastan Hai is one Bollywood gem that will be sung forever. I have a translation and a pirated clip from YouTube.
Please pardon/help improve my understanding of Hindi. During my teens I was swept by a strong anti-Hindi feeling prevalent in much of South India at the time, and never got a chance to learn to appreciate the beauty of the language.
But not Amma.
Amma at Hindi Association
Amma spoke as a chief guest at the Hindi Association of Bangalore and narrated many an instances of how Hindi culture has united India. She got much applause when she mentioned how M.S. Subbalakshmi rendered poems of Surdas in Carnatic music while visiting Calcutta, and how Pani Puri is now available at evry street corner of India.

A Rare Gandhi Stereoscope on Ebay
A rare stereoscope of Ganhi posing for a sculpture has come for sale on ebay.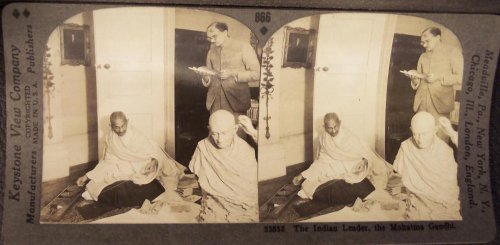 (Comments Disabled for Now. Sorry!)
First Written: Wednesday, April 16, 2008
Last Modified: 5/17/2008 4:27:21 PM