The "Sakshi" Kannada fortnightly played a very important role in the development of modern Kannada literature. It embodied a movement that in the later years was known as the "Navya Literary Movement" in Kannada language.

I am told by Amma (via phone) that Sakhi archives are being brought out in an electronic form, and is being released in Bengaluru this week.

© Vikas Kamat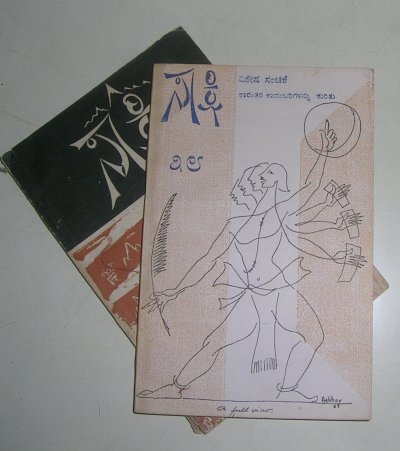 Cover Pages of Sakshi Periodical
Edited by Gopalakrishna Adiga, and published by K.V. Subbanna, Sakshi was a pioneering periodical that advanced Kannada intellect
Remembering Gopalakrishna Adiga
That reminds me of Gopalakrishna Adiga. He was a frequent visitor to Bappa's Lab. Both my mom and dad were inspired by him and I have read so many accounts (this one by U.R. Ananthamurthy) on how Adiga was a genius. All my family members were in awe of him, and I have no doubt that my social status among my friends was very high just because I had met him.
Then an incident took place. It might be not be of much significance, but it left a lasting impression about the great qualities of my father.
A Stellar Example of Bappa Being a Father
I must have been eleven or twelve, one evening Adiga walked in to Bappa's Scientific Photo Lab, his mind bursting with a million matters. He gave me some money and requested for his favorite brand of cigarettes and started tossing ideas with Bappa.
As I said above, Adiga is a huge persona in our household, and he was a revered guru. Even then, my dad must have thought it improper for a young boy to go and purchase cigarettes. So Bappa tactfully engaged me and Prof. Adiga in a conversation and himself stepped out and bought the cigarettes for Adiga.
© K.L.Kamat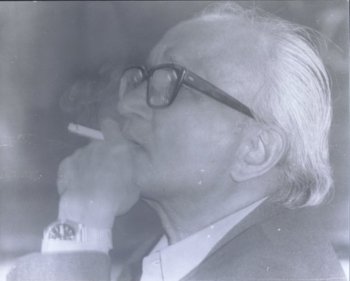 Gopalakrishna Adiga


(Comments Disabled for Now. Sorry!)
First Written: Saturday, February 28, 2009
Last Modified: 3/3/2009 12:04:13 PM