When the Chicken Swallowed the Monkey
Lyric and Translation of Shishunal Sharif's "Kodagana Koli Nungitta"
Shishunala Sharif was a saint-poet of Karnataka. His songs are both melodious and philosophical. "Kodagana Koli Nungitta" is especially a lot of fun. It is really hard to translate the song, because the poet plays with the rhymes and reasons in a clever way, but I thought that as someone who has enjoyed the song tremendously, I must attempt to translate and share it with others. There are many renderings of the song, which I have provided below.
Lyric of the song "Kodagana Koli Nungitta":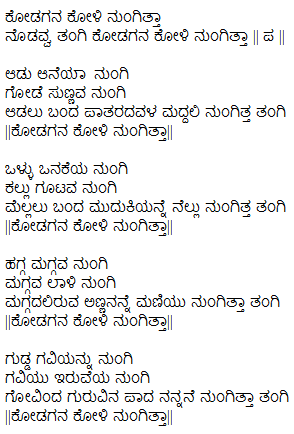 Translation of Shishunala Sharif's Kodagana Koli Nungitta

Look sister!
The chicken has swallowed the ape!
and Amazing things are happening

The goat has swallowed the elephant
The wall has drunk up the whitewash
The Amazing thing has eaten up the tabor of the actress who came out to play!
 

The sesame seeds have eaten up the pounding stick
The rock has swallowed the peg
The Amazing thing has swallowed the old lady who came to relish the seeds!

The thread has eaten the loom
The loom has swallowed the reel
The Amazing thing has swallowed the owner of the loom!

What Amazing thing has happened sister!
The  mountain has engulfed the cave
Like the cave has engulfed an ant!
My teacher Govinda's feet have completely engulfed my ego, sister
Amazing thing has happened

Links to Musical Videos

• From Movie
• By C. Ashwath himself -- see thousands dance to the tune
• A nice rendering by Mayur (except for emphasis on Govinda, see below)
Notes
Govinda as referred in the song is not Lord Krishna, but a local brahmin bearing the name, who accepted Sharif as a disciple. This song is really a tribute to the magnanimity of the teacher, who the poet says cured his ego --"His grace swallowed me".
It might not be obvious, but Sharif was a Muslim.
Sharif stands as a pioneer of in Kannada Islamic literature as well as a Muslim trying to reach God via music (it's a rarity in Islamic cultures; only Kabir comes to mind).
See Also:
• Shishunala Sharif Sahebaru
• Indian Muslims

Postlog: A few minutes after this entry was written, I was told that C. Ashwath in whose rich voice this song is best heard, passed away. What a loss.

(Comments Disabled for Now. Sorry!)
First Written: Monday, December 28, 2009
Last Modified: 5/2/2010 2:52:21 PM