Then there were only three
As you might know by now, my father passed away on February 20, 2002 due to a cardiac arrest. He was in good health, was actively developing new content for this site, and really should have lived another ten years. The Kamat team of four is now reduced to just three.

Out of Print Kamat
During a condolence meeting in Bangalore, we held an exhibition of fathers' works and it turned out that most books are already out of print. I especially want two important works of Kamat (Nanoo Americage Hogidde -- it will be its 12th edition, and KalaRanga) to be reprinted. If you know of a reputed publisher who can help with this, please contact me.

Update July 2002: The XII Edition of Nanoo... is out!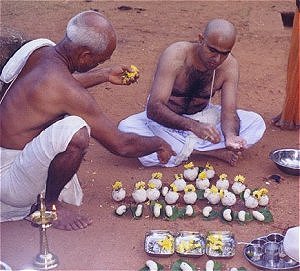 Potpourri of Life and Death
I am just back from India where I performed last rites for Kamat. The short trip to India, and the amalgamation of sentiments, duties, rituals, and personal loss has had a very profound effect on me, and it will be sometime before I can decipher them.

Fall of a Civilization
On my trans-Atlantic flight, I read father's last book The Return Journey, that I had not yet read. It is an interesting work analyzing what went wrong with the Indian civilization. Through simple dialogs and questions, Kamat has answered some of the deeply troubling questions about the Indian civilization. Most critics have said that Kamat does not provide a solution, but only engages in criticism of the present day Indian social system. That is indeed true. But the author provides deep insights into a well-knit socio-political system that was destroyed in India in the post-independence era. I never considered my father as a Gandhian, but his keen analysis only confirms Gandhi's fears and validates Gandhi's vision.
The Return Journey (Maru-Payana in Kannada) is published by Manohara Grintha Mala in Dharwad.

(Comments Disabled for Now. Sorry!)
First Written: Sunday, March 10, 2002
Last Modified: 1/29/2003