More Details on the Blog Portal
After yesterday's exchange of ideas on building a Blog Portal, Mahesh sent a message that my ideas are too ambitious. Perhaps they are, but I still feel we should do it. I went ahead and created the following database table.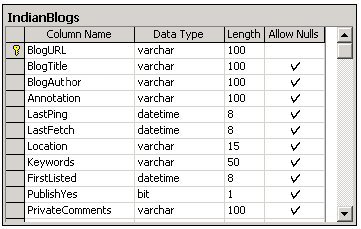 Most fields are self-explanatory. LastPing and LastFetch would indicate the time of last ping ("You call me") and the time of last retrieve by the spider ("I'll call you"). PublishYes is the flag that must be set by the editor in approval for inclusion. This is necessary to prevent abuse. PrivateComments are only for internal use explaining why an entry was rejected. I have added a comma separated keyword field so that the blogs can be catagorized. Annotation is provided by the author and is modified by the editor for clarity.
IMO, the alphabetical list of blogs is of little use. We never browse books in a library alphabetically nor are the groceries arranged by names. Further, alphabetical listings provide unfair advantage to blogs starting with the letter "A"; examples are AnthoBLOGy and Amma's Column,

. Relevance and context is much more important than the names. Anyway...
We must have search facility that would search any of the fields (except private comments), so by searching Mumbai, you not only find blogs blogged from Mumbai, but also on Mumbai.
Still undecided issues:
• "You ping me, I will ping them" -- a broadcast service for Indian bloggers?
• The location of the Directory (considering www.kamat.org/community or blogs.kamat.com)
• Who will be the editors?

Severe Shortage of Eyes in India
Eye banks typically accept eyes only when the deceased donor was under 75 years of age. But the shortage of eyes is so severe in India that my grandfather's 97 year old eyes (see obituary) were delightfully accepted and will be grafted on two different individuals (eye recipients are allowed only one eye in India due to shortage).
The Lion's Club which runs an eye foundation in the city of Bangalore has honored my family for the leadership (my father also donated his eyes) and creating public awareness about eye donation. Personally, for me there is no greater joy than to know that we can serve fellow humans even in our death.

(Comments Disabled for Now. Sorry!)
First Written: Wednesday, July 31, 2002
Last Modified: 1/30/2003
Tags: portal