Happy Birthday Amma!
Amma (my mother that is) is truly a woman of our times. She's the embodiment of  what was good  of the old, and what's good of the new.  A distinguished scholar, an able administrator (she retired as the director of state controlled All India Radio), a humorist, a housewife, a historian, her facets are many. But the strength of her personality is her most inspiring quality.
Indian philosopher Vivekananda has said that a person's achievement must be measured in the obstacles he overcomes, and when I look at Amma's life, she appears as a giant. Loss of mother at a very early age, economic hardships, war-time diseases, frequent relocations, health ailments, the glass-ceiling, and many other problems that shaped her life apparently have only strengthened her. I am amazed by her courage to dispel superstition and myths, as I am humbled by her acceptance of life.
Many people do not know this: it was my mother who made my father. It was she who first saw the elements of greatness in him, and bloomed his character. (Read about it in his own words)
I can go on and on about Amma, but I just wanted to write a paragraph about her on her birthday today. Happy Birthday Amma!
I end with a picture of her, in long braided hair and in a saree, crossing a stream in the deep forest, to visit a remote tribal village in central India, to study the role of women in tribal societies. It might not be great picture, but it has a lot of meaning.
© K. L. Kamat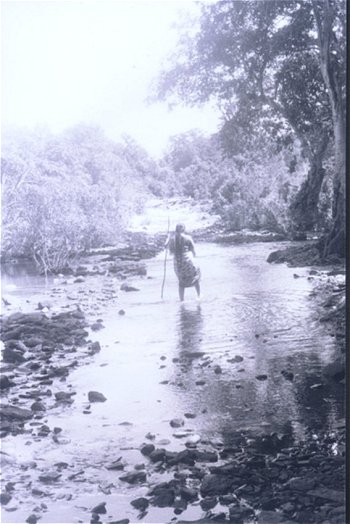 Where there's will, there's way

Lengths People Go to Maintain a Blog
Amma's Column, my mother's blog

, started when she was visiting USA was "perhaps the most low-tech blog" (see her introduction). Upon her return to India it has become even more low-tech! Now she writes her entry, mails to me via postal mail, which is then typed, proof-read, linked, and published. So an entry goes online after a month or so!
There was one blog entry, (an obituary to a great scholar) that was dictated over telephone, sent via instant messenger by a cousin, and then blogged. A blogger has to use all the means necessary!
The wonderful side-effect of the delay in blogging is that my mother is writing about topics that are not dependent on news. Her entries are timeless, in that ten years from now you can still read her blog entries for the first time, and they would be relevant and fresh. One day I hope to pull her best blog entries and compile into a book.
Due to the nature of their creation, my mother's blog entries are devoid of external links, thus defeating all known definitions of what a weblog is.

Anyway, I feel very proud that fruits of her scholarship are being distributed in tiny slices, via a brand new medium.

(Comments Disabled for Now. Sorry!)
First Written: Friday, January 24, 2003
Last Modified: 1/29/2003