Fun with Potato Gun
You can't write enough about men and their obsession with machines.
One of the most fun I've had recently was at a party where an engineer brought with him a potato gun that he'd built. It was amazing -- no moving parts, and you actually use vegetables as the bullets! 
We tried to shoot tomatoes, zucchini, apples, and cucumbers. I was surprised by its power, as I smashed the target with a mere cucumber (shown below).
M.Mirov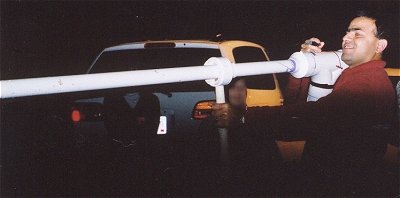 Not a Stinger, but a Spud!


Warning: Potato guns (a.k.a tuber launching devices)  might be illegal where you live.
Links:
• How to build a Potato Gun
• Fun with Vegetables

Picnic in the Sun
This is my latest creation...
© Vikas Kamat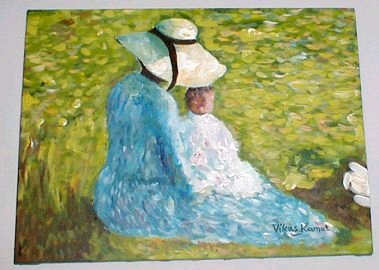 Picnic in the Sun
by Vikas Kamat, March 2003
Acrylic on Canvas, 9" X 12"
Original Cyrille et sa mère à Marquayrol, été by Henri Martin (1860-1943)


(Comments Disabled for Now. Sorry!)
First Written: Monday, March 3, 2003
Last Modified: 3/3/2003
Tags: VKPainting