Remembering Doreswamy Iyengar
When I was thirteen, once my parents took me to the house of Doreswamy Iyengar, a distinguished Veena musician. I do not have much musical background, but I distinctly remember the evening and the impression of the great man. He was so simple, so unassuming, and so gracious. It was like he lived in a world where there was no guile and no deceipt. He told us many stories, and let me fiddle with his instruments.
This week, Amma sent me a biography of Doreswamy Iyengar, and I fondly remembered the memories of that day.
Here's a picture taken that evening.
© K. L. Kamat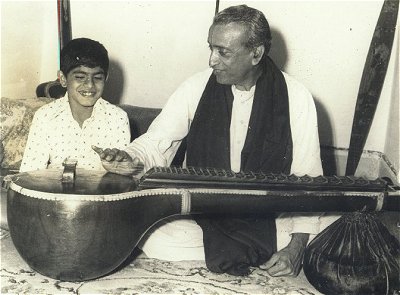 Indian Music Potpourri
I had a hard time on deciding under which section of Kamat's Potpourri (we have some 300 different folders) I should publish Doreswamy Iyengar's biography. Then I bit the obvious bullet, and created a new section on Indian Music. It is a work in progress, and even though we do not have much contents on Indian music, it will act as a place-holder for future additions.

Update. My uncle Prakash Burde who is an established music critic, has volunteered to provide contents for the section.
I am just delighted that Kamat's Potpourri is now becoming the most complete reference point on Indian culture.

(Comments Disabled for Now. Sorry!)
First Written: Thursday, September 11, 2003
Last Modified: 9/13/2003