Long Horn
Long Horn is the code name for the next version of Windows from Mircosoft.
Paul Thurrott: Pictures of Long Horn (first seen @The Third Eye)

I searched for "Long Horn" in our picture archive, and found this

© K. L. Kamat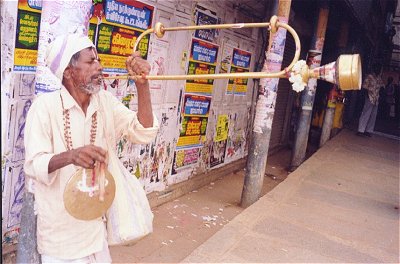 A Really Long Horn
A Dasayya playing horn and cymbals on a Bangalore street.
Some Notes on the Picture
Sometime in medieval India, a new devotional cult broke out that generated tremendous following and reformed Hinduism. The followers of this faith called themselves Dasas or Servants of Lord, and engaged themselves in creation of poetry, music, and art in Lord's glory.
Remnants of this powerful movement can be seen today in India through the devotional compositions of Purandaradas, Kanakadas and Shaivaite Dasas known as Sharanas. The Dasayya tradition shown in above picture belongs to the same strata. They beg whole day long on the street-side in the name of the Lord, following the ideals of Purandaradasa.
See Also:
• India's Street Culture
• Bhakti -- The Path of Devotion
• Another Long Horn

(Comments Disabled for Now. Sorry!)
First Written: Tuesday, September 16, 2003
Last Modified: 9/16/2003