Documenting the Undocumented
Those who grow up on India's west-coast are very familiar with a Konkani speaking community called Kudubis. They are a fun loving tribe, and most popular for their celebrations of "Shigmo" (harvest festival), and "Gumatepak" (celebration of Spring) festivals. In our continued efforts to document the undocumented India, I have rehashed a 2000 article on the community and present a new section on the Kudubi Communtity.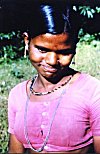 G.B. Joshi Centennial
It is in the same spirit (documenting the undocumented, or singing the unsung) that we remember the contributions of G.B.Joshi during his centennial year, this year.

Of course, Joshi was a family friend, a mentor to my father, and was great man. His acumen to run a prestigious publishing house on a shoe-string budget was amazing (and had earned him the nick-name Fox). IMO it is only due to efforts like Joshi's that Kannada language and literature survived and prospered. What can writers do if they have no market?

Coming Soon: G.B. Joshi Photo Album, and Karnataka SuperSite on the occasion of Kannada Rajyotsava Day (Nov 1).

Singing the Unsung
After Amma's Kannada book "Nenapinalli Ninthavaru" (Those who persisted in my memory) came out, I requested her to document the lives of some of the great, yet forgotten leaders of Karnataka. As a historian, as a scholar, and as a biographer, I felt that she was in a unique position for the assignment. She obliged, and I am pleased to compile this list of biographies of many of the unsung heroes of Karnataka.

(Comments Disabled for Now. Sorry!)
First Written: Monday, October 27, 2003
Last Modified: 12/10/2003