Picture Number 1 (One)
Of the ten thousand or so pictures that we have digitized, the one that see most often is a portrait of Kannada writer Gorur Ramaswamy Iyengar. The reason for this is that when we started cataloging Bappa's pictures, the first color slide I picked happened to be this one and I called it Picture Number 1. Since then every time I browse our collection (by default, it sorts by name), Mr. Iyengar pops up at the top of the list!

When I Met Gorur Ramaswamy Iyengar
My dad was a great admirer of Goruru, especially his landmark book "Namma Urina Rasikaru", and wanted to photograph him. On a sunny day in 1983 Bappa and I took a bus to the Navarag theater in Bangalore and located his house. It was a very small and humble residence. Some of the greatest men and women I have met are also the most simple. He was full of exaggeration and humor, just like his writing. Mrs. Iyengar offered us warm hospitality and sugar boiled milk. I just remember that we all laughed a lot, and for me it was a memorable day.
© K. L. Kamat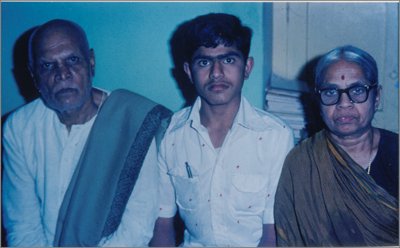 When I grew older I read some books by Goruru, but I must say that the man in person was even more inspiring.

Strength of Character
Recently I read the autobiography of S.L. Bhyrappa (Bhitti) that gives a graphic description of the town of Goruru. In one incident, the author (a great writer himself) recalls attending a funeral for Goruru Ramaswamy Iyengar's son.
Excerpted from Bhitti, the autobiography of S.L.Bhyrappa
Even though India was freed on 15th of August, the satyagraha (non-violent struggle) had continued in the Mysore province demanding a responsible government. A number of us performed civil-disobedience and courted arrest. A son of Goruru Ramaswamy Iyengar, who was studying in the town of Tumkur and participating in a satyagraha, got caught in a police shooting and died. Ramaswamy Iyengar, probably already in prison, but temporarily released to perform the last rites of his son, led about five hundred of us in a procession to the river. Iyengar held the ash-remains of his dead son in both his hands, and we walked about two miles to the union of Hemavati and Egachi rivers. He then walked chest-deep into the river, disbursed the remains, and addressed us on the bank of the river - "My son died an honorable death in the liberation of our nation. Such a death must not be mourned".

All the assembled bowed to Ramaswamy Iyengar's strength of character, at a time of such great personal loss.

See Also:
(Comments Disabled for Now. Sorry!)
First Written: Tuesday, June 1, 2004
Last Modified: 6/2/2004 9:40:40 AM