This and That
My article "The Call of Yama" has appeared in the recent issue (cover date of May 2005) of Family Therapy Magazine

published by American Association for Marriage and Family Therapy.

I am excited to recieve a gift of never before seen photographs of Gandhi, taken by Mr. V.N. O'key.
The photographs are so old, the silver (the old black and white photographs contained considerable quantity of silver compounds) has almost oxidized.
I am eager to publish them online in our Gandhi Album as it includes some rare pictures and Gandhi engaged in daily activities.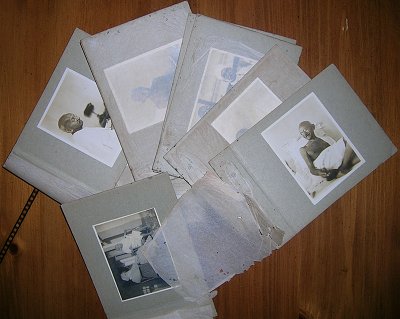 Kottke.org: Lessons from a Micro-patron Experiment "Consider Advertising"

Some guys working in a call center in India stole $350,000 from CitiBank customers and it is bringing the outsourcing industry a bad press.
BTW, here is a list of Research Papers on Outsourcing to India

Ping-Pong: I have implemented Pinging Technorati functionality to the Blog Portal. So just pinging the community server is now enough to percolate the ping to weblogs.com and Technorati.

(Comments Disabled for Now. Sorry!)
First Written: Monday, April 11, 2005
Last Modified: 4/13/2005 9:56:16 PM