Remembering a Visit to the Niranjans
Kannada language readers are very familiar with the name Anupama Niranjan. She was a physician and pioneered the field of scientific writing for common man in Kannada by writing articles on medicine and science in popular periodicals. At a time when no TV or Internet was available, her columns were the sole means of obtaining sex education for teens in Karnataka during the 1970s. Dr. (Mrs.) Anupama Niranjan will always be remembered for her tips on fitness, nutrition, and lessons in human anatomy written in simple language and style so even those for barely literate could avail scientific information.
Her husband, Mr. Niranjan was a literary giant as well, but I don't think he wrote for periodicals (he only wrote books). I have read only one book of his --"Rangammana Vathara" , a novel set in an Indian home-block, and it is a classic. "Setuve" and " Mrityunjaya" are his other famous works.
You know my father -- he wanted to photograph everybody, common people and famous people, so one day (I was 14 years old) we went to photograph the Niranjans. I was awestruck by the Niranjans' warmth and friendliness, and especially, the cleanliness of their house -- you must understand, I grew up in rural India, where "clean" meant a fresh coat of cow dung. Bappa took numerous photographs, the three below are most memorable.
© K. L. Kamat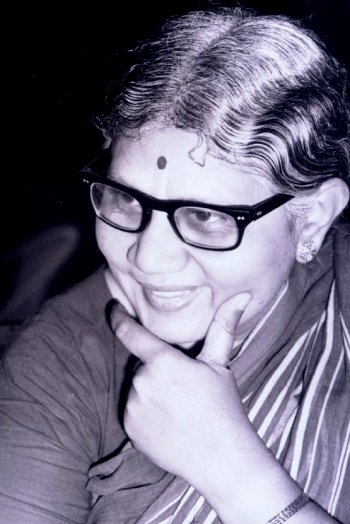 © K. L. Kamat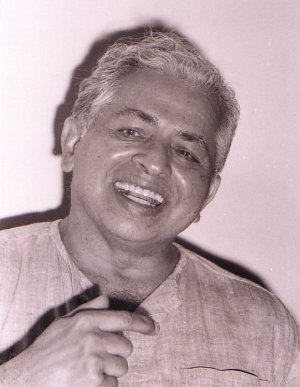 © K. L. Kamat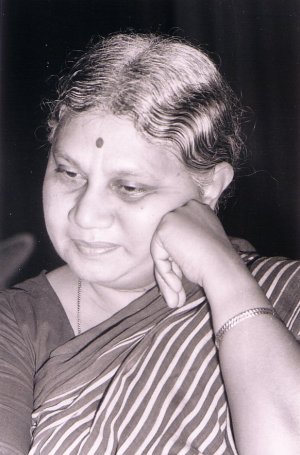 I was very much influenced by Mr. Niranjan (at that time, I had not read his book; and for worse, somebody had told me that he was Communist). His simplicity and honesty (he referred to himself as "the handicap") have left a lasting impression.
A funny thing happened on our way back from the Niranjan household. As great as the couple were, I could not ask to use their bathroom, so I had to go as soon as we left. It was dark, and on way to Jayanagar bus stop, behind a large neem tree I relieved myself. To my great shock a man rose from the ditch below and yelled. Apparently he was sleeping there! Even after all these years, I feel terrible that I urinated on a poor homeless refugee, even though it was by a freak accident.
Something about them teenage years...small incidents leave deep impressions.


Corrections from Amma: Anupama was a top novelist and short story writer among Kannada women-writers. Niranjana started his career by writing to periodicals, and he did it for several years. Many say that he could not overcome his "journo style" after switching to creative writing.

(Comments Disabled for Now. Sorry!)
First Written: Friday, June 24, 2005
Last Modified: 6/29/2005 9:11:12 AM