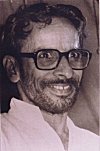 (via email from Amma) Just heard that K.V. Subbanna, the super intellectual from Karnataka, passed away.
Subbanna was a pioneer in theater movement, a dramatist, a publisher, and a philosopher. He was honored with the Ramon Magsaysay award in 1991.
On a personal connection, he was the publisher of my father's book 'Na Rajasthanadalli', and a family friend.
I mourn his passing. A true genius, a compassionate radical who understood the role of community and its relationship to the individual.
Amma said via telephone: Subbanna wrote such fantastic tributes to unsung heroes like Bappa and Dr. Kusuma Sorab ("The Lady Who Gave Speach to the Silence of Sharavati"). Now who will sing Subbanna's glory?

(Comments Disabled for Now. Sorry!)
First Written: Saturday, July 16, 2005
Last Modified: 7/18/2005 10:13:04 PM