I very much enjoyed viewing the photographs from the book "India Poems" by Waswo X. Waswo. The images are graphic, full of rustic beauty, and rich in storytelling.

I especially liked the picture of a sickle vendor, which reminded me of the cosmic form of Vishnu with multitude of weapons in his hands.

Funny Name, Serious Pictures

Other than Wilson Wilson (of Home Improvement, played by Earl Hindman), I don't know anyone whose first and last names are same, but Waswo X. Waswo is indeed the actual name of the photographer from Milwaukee, WI, and his photographs are as interesting and beautiful as his simple name. Although shot in contemporary India, they connote a period that has since been lost, perhaps due to their monochrome depiction, and Waswo's deliberate avoidance of contemporary topics (such as rich-poor divide, the pollution, or exploitation).

Picture Courtesy: Wawso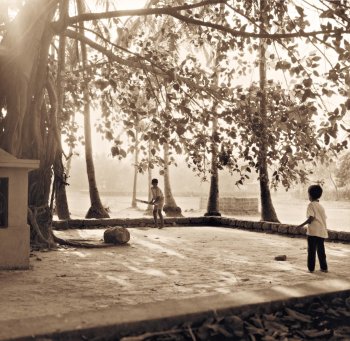 Unnecessary Commentary and Controversy
The book contains many essays, as if to justify Waswo's work, which I find unnecessary. Photography is a medium of its own and the accompanying commentary either must be interlaced or restricted to a brief annotation or caption. It is possible that the the photographer was criticized (during many exhibits that he held prior to publishing this book) about his selective manipulation of subject matters and their resemblance to the works of colonial photographers (a common problem for Western photographers depicting India) , and the author seems to address those criticisms. But as a first time reader, I found both the lengthy commentary, and the controversy unnecessary. I didn't read much of it.
Yet, for all the verbose, it is disappointing to note that many captions of the photograph lack creativity and are titled simply "untitled portrait" or such.
Picture Courtesy: Wawso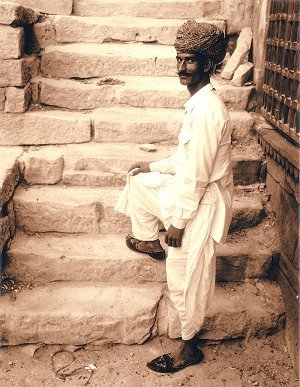 I hope Waswo continues his artistic depiction of India. I also hope he chooses color for the next project, because as Raghubir Singh used to say "India is inherently a colorful country!"
Another idea I hope Waswo considers is mixing photography with poetry (Waswo is also a poet: see Waswo's poetic works) -- like the photo-poem jugalbandis I tried to compile sometime ago.
India Poems: The Photographs by Waswo X. Waswo, Rooftop Vistas, ISBN: 0976012529, Price: $39.00

See Also:
(Comments Disabled for Now. Sorry!)
First Written: Saturday, January 21, 2006
Last Modified: 1/23/2006 10:28:26 PM