The Gudbud (a.k.a. Gadbad) is probably the most exotic ice-cream meal you will ever eat. Very popular in the part of India that I come from, you can easily prepare it it USA.

Gudbud is a hearty ice-cream. The advertisements claim it as "Gudbud Meal", as it is very filling.

© Vikas Kamat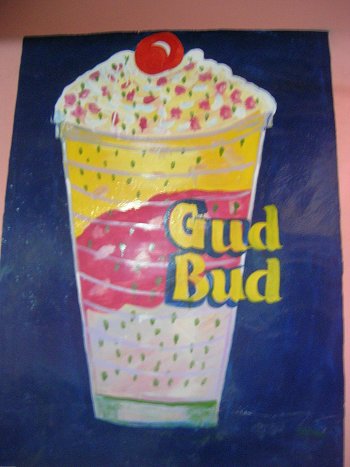 Advertisement for Gudbud Ice-cream in Mangalore
But first a story/joke.
In some Indian languages "gudbud" means haste or even trouble and pandemonium.
Once a connoisseur from my town went out of town (where they didn't know about Gudbud ice-cream) and entered an eatery by the bus station. The multiple meanings of gudbud led to a lot of confusion (or should I say gudbud?)

The connoisseur asked the owner of the eatery, "Do you have Gudbud?"
Owner: "Welcome! I'm in no gudbud Sir, please have a seat" (assuming that the customer has a long wait for the bus)
The customer sits down down and waits for a long time and gets no service.
Customer (impatiently): "Can I have my Gudbud or not?!"
Owner: "I don't mind Sir. You can wait as long as you want. The bus is always late."
Customer (puzzled): "I want Gudbud to eat."
Owner: "I'm sorry, I thought you were not in a hurry to eat. What can I bring you? I have Masala Dosa, Idli..."
Customer (angrily): "I want Gudbud!."
Owner (smiling, as if he can handle any trouble): "I can handle any gudbud Sir. I have handled lot of gudbud in my lifetime."

How to Make Gudbud Ice-cream
Requirements: Vanilla ice-cream, Strawberry ice-cream, Saffron (Kesar, available at Indian grocery stores) ice-cream, unsalted cashew nuts and raisins.
Serving: In a tall glass, mix cashews and raisins. Stack a scoop each of vanilla, strawberry and saffron ice-creams.
I sometimes substitute peach or butterscotch ice-cream instead of saffron, and use Craisins instead of raisins.
The best way to eat Gudbud is to dig deep vertically with a long spoon so that each mouthful has a layer of each of the ingredients. It also helps smear the flavors into each other which enhances the experience!

(Comments Disabled for Now. Sorry!)
First Written: Tuesday, March 21, 2006
Last Modified: 3/26/2006 12:23:06 PM