Despite some bugs, I am releasing Kamat News Portal.

As I have said before, the prime motivation was to provide an alternative to the ad-infested Sulekha News.

Review of Shyamchi Ayee (Shyam's Mother)
For the last few days, I have been reading Sane Guruji's "Shyamchi Ayee".
In the early pages of the book, I thought it was a super-sensitive work, almost to the tune of being childish, and bordering on worship of women. But within a few episodes (there are 42 of them) Guruji has transformed me into a super-sensitive cry baby. It is a delicate and beautiful story of Sane Guruji's own childhood set in pre-independence days of Konkan belt. It is indeed a masterpiece. The author brings out the Indian family value system though simple incidents and dialogues, and the profound thought and sensitivities are left to the reader to regurgitate and enjoy. I have been raving so much about the book that my wife just ordered the English version.
I hereby salute the genius of Sane Guruji. Of course, he was much more than a writer -- an educationist, a freedom fighter, socialist, and a reformer. Read Remembering Sane Guruji in Amma's Column.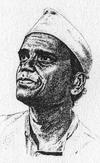 I am also divesting my prejudice against the sensitive types. Although the sensitive people suffer more through life emotionally -- for instance, the author of the book committed suicide in real life -- now I believe that they live more fuller lives than those who have less sensitive personalities.
FYI: While I have not seen it, this book was made into an award winning movie with the same title.
Next on my list of classics to read: Dreams of Dumb Grandma (Mookajjiya Kanasugalu) by Shivaram Karanth.
Recently finished classics: "The Brothers Karamazov", "Parva" (The Epoch)...

See Also:
• Worship of Women
• Mother and Child: Pictorial Exhibition
(Comments Disabled for Now. Sorry!)
First Written: Sunday, July 16, 2006
Last Modified: 7/21/2006 5:19:50 PM