Become a Pundit, the Easy Way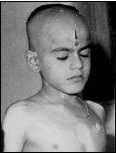 Perhaps after seeing the pictures of my ordaining, and some of the content on Hinduism on our site, some people take me for a Hindu priest. Sometime ago, I got a message from alienated Hindus from the city of Maputo in Mozambique. Apparently,  Hindus there have built a temple, but do not know how to conduct the rituals of coronation, and installation (pratishtana). The gentleman had many questions, like whether or not a non-brahmin can become temple elder and  temple priest, and which of the Hindu idols they should worship.
I am no priest, but I wanted to jump on this opportunity to preach my strongly formed opinions of caste and idolatry to the Hindus of Mozambique. I wanted to write to them that in front of God, there's no caste and ridicule them on their dilemma of which deities to worship. But I didn't, as imposing my views on them would be a sin.
But I continued to dig, and today a Hindu scholar I revere told me that my position is indeed a correct one. "Everybody is born a scumbag, it is through refinement that one becomes a pundit". The scholar suggested that for those who want to become brahmins, Hinduism provided an easy way: take an oath to abide by the conscience. That's it! Men who believe in ceremonies and public declaration could shave their heads and wear a piece of thread across their shoulder.

I also sometimes get messages from people seeking guidance on Hindu wedding rituals (see: Indian Wedding), interracial marriages (mine is one),  funeral rituals (see FAQ), and whether or not their pets have souls.
So these are some topics, knowledgeable pundits (definition at Dictionary.com) can cover on their websites.

(Comments Disabled for Now. Sorry!)
First Written: Tuesday, July 9, 2002
Last Modified: 1/24/2003