Kamat's Potpourri is the webzine showcasing the works of the Kamat family. You will find topics ranging from pre-historic rock art to protecting the environment. The following log traces the evolution of Kamat's Potpourri.

Last updated : January 03, 2018

Get the updates in your mailbox! Signup for Friends of Kamat
See Also: Daily updated Kamat BLOG
November 2001: The Kamat website has reached its capacity once again. Vikas is torn between the decision to expand it by a factor of two or by a factor of ten!


October 2001: I presided over the Conference of Karnataka History Congress for the year 2001. This post was held by many of my mentors and professors, and I felt truly honored. Kamat accompanied me to the temple town of Udupi and we met innumerable admirers, fans. It was great to exchange views and ideas with fellow researchers and people we admire. As usual Kamat went on a photographic spree and you will see some of the pictures in the coming days. (See: The town of Udupi, Temple Elephants)

September 2001: Vikas has been covering the news and developments of the USA attacks in his daily updated blog. We at Kamat family offer our deep condolences to all the victims of the 911-01 attack and their families.

My Kannada book "Mahile-Andu-Indu", Sai Publications, Bangalore has been released.
Vikas and I have been working on finishing up my book on the History of Education (to be published by Bahri).

I have been chosen to preside over the annual conference of the Karnayaka History Academy! They said I am the first woman to be appointed to this post.

August 2001: Kamat and I took a vacation together after seven years. It was full of appointments, work and note taking -- we met so many people, ate so much good food, and Kamat took over 40 reels of pictures in a span of two weeks; tribals -- especially the Siddis, ordinary people, fishermen, and famous people.
Kamat's new book -Maru Payana was released in Dharawad on Aug.15th.

July 2001: I have begun work on a long time project of compiling Konkani folk songs. Vikas and Hiryoung are proofreading my book on education (to be published by Bahri). On Vikas's suggestion I am writing a series on the Bhakti Movement in India.
Monthly views for Kamat's Potpourri cross 1 Million in June 2001
Kamat writes about days he spent in Pakistan in 1965.

June 2001: We proofread Kamat's forthcoming book "The Return Journey" in Kannada. He has finely blended socio-environmental issues in the context of changing life in rural India. To be published by Manohara Grintha Mala later this year, I think it is Kamat's Magnum Opus.

April 2001: This month, look at the striking similarities of unchanged life in India over the centuries in Now and Then.
Also see the wheels and circles of India in the pictorial exhibition Chakra
I was honored with a Vidooshi (woman scholar) reward at the Mythic Society of India


March 2001: As the religious fanatics tear down the Buddhist monuments in Afghanistan, we bring you the priceless Buddhist monuments spread all over India. See sculptures of Sanchi, Frescos of Ajanta and Statuettes.
We pay our tributes to the genius of Raja Ravi Varma and his paintings. Indians have found divinity in his art and even to this day, his paintings are framed and offered daily prayers.


February 2001: We are happy to unveil the Kamat's House of Pictures consisting of over 4000 pictures and numerous ways to navigate it.


January 2001: Kamat's new book on travel essays is out - Pravasiya Prabhandagalu published by Shrivari.... The number of online pictures in Kamat PictureSearch crosses 3000....We open a section called Kamat Greenroom to provide insights into how this website is produced....

April 2000: Vikas had some free time this month and he has uploaded a lot of new content. We have have added a new feature by public demand that lists the new contents only. This way, repeat visitors can just browse the additions. Thanks to those who suggested this handy feature.
March 2000: Thanks to the efforts young, dare-devil journalist from San Francisco, Ms. King (currently touring India on a motorcycle) the BBC interviewed us at our residence! It was a great experience to meet young girls from other parts of the world and explaining our philosophy in life. We will let you know when it will be broadcast.
Both Kamat and I have been invited to the North American Konkani Conference . I have contributed an article to the World Kannada Conference to be held in Texas later this year. But we are unlikely to attend due to Kamat's poor health. If you live in the area, I encourage you to participate.
This month we unveil Narad, a software my son wrote to keep track of related websites. We also bring you a Rangoli exhibition by public demand. Do not miss the Extreme Rangoli of Maharashtra.

February 2000: We continue to meet fascinating people through the Internet, although personally I have never composed an e-mail! ( My son does that for me).
This month we bring you The Flowers of India and the Festivals which also includes a calendar of Indian Festivals.


January 2000: We thank our patrons and publishers for a very productive year in 1999. Four of Kamat's books came out as did the multimedia CD-ROM.
On the website, we bring you the sacred Bhagawad Gita by my father Ganesh Burde. Also start new sections on the Dwarapalakas, Andhra Pradesh and provide many updates to our popular pages.
We are expecting a highly enterprising visitor from San Francisco. She will travel throughout India on a Motorcycle! We met her through the Internet and are excited as much as she is.
The father and son have begun work on a grandeur project on Karnataka in honor of the Kannada Conference to be held later this year in the United States of America. Await the details and the announcement of availability!


December 1999: Like our website? Buy the multimedia CD-ROM! Now available at Barnes and Noble and Amazon (ask for ISBN 1929648).
I will be speaking at the Saraswat Convention (Dec. 16-19), although my husband whose years of research and authority in the field are well known, will not be attending ;-(
See updated Erotic Arts of India. We start a new section on poverty in India and the Islamic Heritage of India.

November 1999: The Timeless CD-ROM is complete and we are tired! Kamat's Konkani book "Konknyagale Kavi Chitra" is progressing well. Krishna's book Akshata is released.
October 1999: The Timeless CD-ROM is being proof-read. Reading over 1600 documents and checking over 50,000 hyperlinks is quite a task! Online, we bring updates to Mahatma Gandhi Album on his birthday.
September 1999 : This year is turning out to be a very productive year for both of us. We are proof reading Krishna's book 'Akshata', and my ' A study on the Woman of our times', both in Kannada. Manohara Grinth Mala brought out my other book 'Nage-Kedage' - a collection of humorous short stories. Fourteen of Krishna's pictures will be exhibited in London as part of the Ephemeral Arts Festival. The Timeless Theater CD-ROM is also announced. Also see a picture of Lord Ganesh on his birthday (Sept 13, 1999)
August 1999 : We celebrate India's victory in the recent Kashmir crisis by remembering how the two countries were created. Read The Tryst with destiny.and learn about India's (and Pakistan's) freedom struggle against the British. As part of our two year anniversary update, we bring the Konkani Heritage Album
July 1999 : This month we will bring you an Interview with Ashwathama, a fascinating story as told by my father G.V.Burde (Baba to family members) to my son Vikas. This is taken from his collection, appropriately titled, Vikas's Stories. His knowledge of the Hindu mythology, the Puranas and world history is overwhelming and a deep understanding of them is necessary to truly enjoy them (Yes. I am proud to say that Vikas at age 9 had read Rajaji's Ramayana and Krishnashastry's Mahabharat).
We respond to viewer's many questions on Konkani language through a Konakani-FAQ.
June 1999: I will be presenting a paper on medieval Saree patterns at the annual History Conference in Bellary. Kamat prepared beautiful slides for my talk based on Lepakshi paintings. We will feature a online Saree Exhibition in the future based on them.
As our Pakistani brethren engage in hateful mischief in the Kashmir valley, we present several pictures on the topic. The first one illustrates men fighting battle to defend land, cows and women. The second one drives home the point that India is full of people of Islamic faith who live in every nook and corner of this great nation.
Kamat also profiles an old friend of mine Mrs. Mukta Venkatesh and her paintings
August '98: See beautiful pictures of Yana, rare portraits of Bhairappa and Kuvempu at Jai Karnataka. Also we begin a Kannada section by popular demand. Vikas is compiling a grand list of links depicting the diversity of India.

July '98: I presented a survey of published research on Vijayanagar history at the Conference of the Mythic Society of India (07/12/98)
Kannada monthly Mayoora, interviewed both of us and published a lengthy profile on us (July Issue).

June '98: We have received very positive feedback on efforts at the website; also several requests to start a Kannada language site. In July, we will feature a page titled 'Puta-Bangara'.(preview for those who cannot wait). See several pages on Jainism 1, 2, 3 at Kamat's Potpourri.

May '98: There is a new Dr. Kamat in the family ! Hiryoung became third Ph.D. in the family when she defended her dissertation on Graph Algorithms at UAB. Kamat (that's my husband) has been studying the Jain monuments of Karnataka.

April '98: When our son Vikas was seven years old, he wanted to write a book just like his father. He did write a series of essays, which he titled Jai Karnataka. After twenty five years, that is the title we chose for our section on Karnataka at Kamat's Potpourri ; we added a guest book for visitors like you to sign.
Kannada Weekly Sudha interviewed me recently for their weekly column 'Vyakti Parichaya'. You can read the excerpts by clicking here. (It is in Kannada language)

Read some notes on status of women in 14th century Karnataka at Kamat's Potpourri. These are excerpted from my book -Social Life in Medieval Karnataka.

Kamat has been busy indexing and rejoicing over his collection of photographs. Can you believe that he has taken over 100,000 pictures - all as pure hobby ? We are very glad that our son Vikas has taken interest in publishing some of our work. Look out for the KalaRanga CD-ROM.
Some Highlights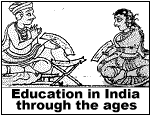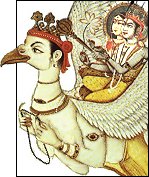 A Brief Chronological History of the Kamat 's Potpourri
Started as a home page on AOL in Nov. 1995. The first attraction was tour of India in photo stubs
Registered a separate domain on behest of B.G. Mahesh Aug 1996
Moved to co-location at IAOL in Nov 1997. Popularity jumps to over hundred accesses/day.
Due to delay in publishing of the KalaRanga CD-ROM, started to publish the contents online. Accesses jump to over a thousand a day. (June 1998)
We add a Kannada Section (Aug. 98) in Kannada Script, by popular request.
The popularity of ...Potpourri increases to over 2000 page views/day (October '98) and we decide to keep the site free of advertisements.
Full Text Search Engine is Added (December 1998)
A review by the Arts and Letters daily, more listings at Yahoo! and a Editor's Pick Listing at Bharat-Ek-Khoj (previously known as Mahesh.Com) propel daily readership to above 5000. Thank you viewers and reviewers! (January 1999)
CHIP magazine names Kamat's Potpourri as one of India's best websites. (February 1999)
Kamat's Potpourri's monthly viewership skyrockets (February 2000) after the popularity of our Rangoli section.
Due to problems with our host-provider, service switched to Hostway
Kamat PictureSearch is added. This nifty search feature returns pictures instead of text. By popular demand, we start Kamat Picture Exchange. (July 2000)
Kamat's Potpourri is consistently rated as India's Top Websites by BestIndianSites and Best of the Internet by About.Com. Popularity jumps to over 50,000 page views a day (September 2000).
Due to increased bandwidth needs of the website, moved to a new location hosted by HostPro. (November 2000)